Saft on-board batteries will provide energy efficient back-up power
CAF's Sprinter New Generation trains for Dutch Railways will now operate with Saft's nickel-based MRX batteries…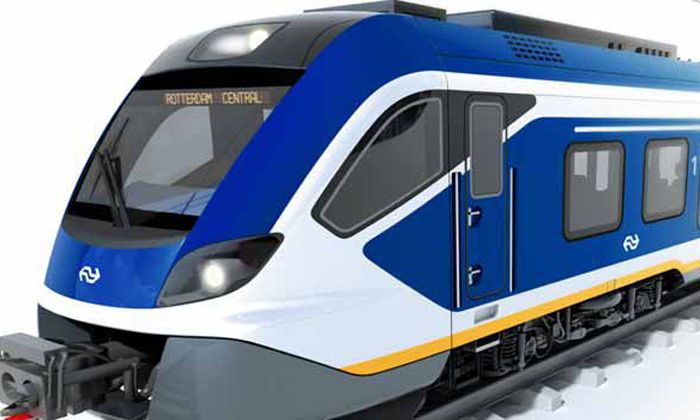 Saft, has been awarded a major contract by CAF (Construcciones y Auxiliar de Ferrocarriles S.A.), to supply the on-board back-up power batteries for the new electric commuter trains currently under construction for Nederlandse Spoorwegen (NS), the Dutch railway network operator.
Saft's nickel-based MRX batteries will enhance the energy efficiency of the 118-strong fleet of new trains as the Dutch rail network makes the transition to running entirely on renewable wind energy by 2018.
CAF is adapting its Civity EMU (Electric Multiple Unit) design to provide Sprinter services on the Dutch railway network. These Sprinter New Generation units feature a low-floor design that offers leading edge comfort, efficiency and safety technology. The aerodynamic design of the units, the shared bogie system for weight reduction and other technological advances provide for optimum power efficiency. The fleet that CAF is manufacturing for NS comprises 68 three-car trainsets and 50 four-car trainsets scheduled to start revenue service from 2018.
Two Saft batteries will be fitted to each NS trainset where they will deliver a combination of high power and energy to ensure the continuity of critical control, safety and communications functions for over three hours should the main power supply be interrupted.
"This order for the Sprinter New Generation NS trains was Saft's biggest order in Spain's railway sector for 2015 and further reinforces Saft's long-standing relationship with CAF who are already the largest customer for our Spanish subsidiary," said Glen Bowling, Transportation, Telecom and Grid Group Senior VP Sales at Saft. "The order is also particularly important as it is helping Saft to open up the Dutch train market."
The batteries that Saft is manufacturing for CAF comprise 80 MRX115 cells for a nominal 110 V and 115 Ah capacity. Saft has developed the MRX cells specifically to provide a compact, lightweight battery solution that provides high performance within the limited space envelope available on modern train designs. It also offers predictable and reliable performance over a long service life of up to 15 years that contributes to an optimised Total Cost of Ownership (TCO). Furthermore, MRX batteries offer a higher energy capability at extreme temperatures, ranging from -30°C to +70°C, to ensure continuity of train services especially for routes on the Dutch railways that experience severe winters. In addition to reduced maintenance requirements, an important advantage for the train operator NS is the integrated water filling system that makes topping-up fast and simple.
Saft has delivered the first batteries to CAF in 2016 and the programme will continue until 2019.