SNTF Algeria will soon receive first Coradia Polyvalent from Alstom
The train, first of 17, will be transported to the port of Savone, Italy where it will embark in the direction of the port of Algiers, Algeria…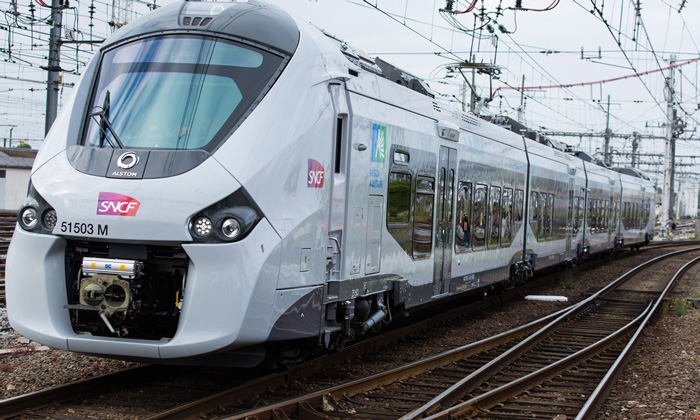 An example of Alstom's Coradia Polyvalent train
Alstom has shipped the first of the 17 Coradia Polyvalent that were ordered, by the Algerian national rail transport company SNTF (Société Nationale des Transports Ferroviaires d'Algérie), in July 2016.
The train is expected to arrive on 29 January 2018. The rest of the 17 will be delivered gradually until July 2018. The trains, designed and manufactured at the Alstom site in Reichshoffen, France, will operate and circulate throughout Algeria's major cities.
"We celebrate the departure of the first Coradia train for Africa and are proud to deliver this first train to the SNTF in Algeria. We are happy to contribute to the development of mobility in this country," said Henri Bussery, General Manager of Alstom in Algeria.
The Coradia Polyvalent for Algeria is a mainline dual-mode train (diesel and electric-25kV) capable of running at speeds of 160km/h. With a total length of 110m, the train has six cars and offers a capacity for 254 passengers including 60 in first class.
The vehicle is adapted to the country's climatic conditions including sand and high temperatures, and has a very efficient air conditioning system. The train also has a low-floor to facilitate access and movement on board, enabling passengers with reduced mobility to travel easily. Interior fittings included on the Coradia Polyvalent are among the latest developments undertaken by SNTF and provide optimum travel comfort. Lastly, the train's design and powerful motorisation enable optimised operating conditions.
Alstom's Coradia range of trains benefit from 30 years of experience, with more than 4 billion km covered by 3,000 trains.