Slovenia's contract for a brand-new fleet is awarded to Stadler
The new regional trains offer plenty of seats, extra amenities and storage space for equipment and luggage, demonstrating a will to make rail transport attractive for all…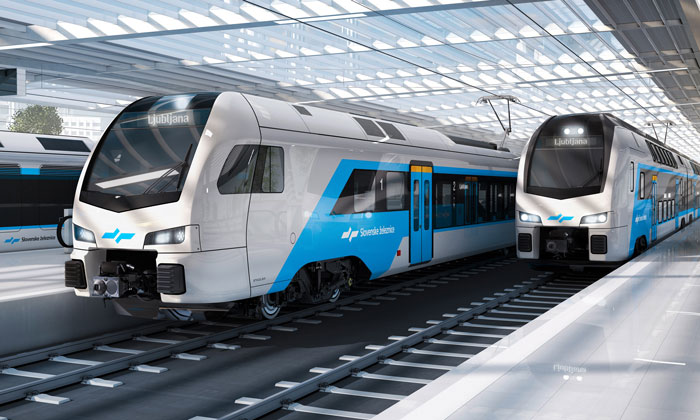 Stadler is designing and building 26 single and double-decker multiple units for the Slovenian state rail operator, Slovenske Železnice: Their first contract from Slovenia.
The order contains 11 FLIRT EMU trains, five FLIRT DMU trains and 10 KISS EMU trains, plus an option for 26 additional vehicles. These vehicles are very different types of train however they will be engineered in a way that allows mixed compositions within the fleet.
"It delights us that our second attempt has been successful and we have managed to break into the Slovenian market," explained Peter Spuhler, Owner and CEO of Stadler.
The contract for the fleet capable of mixed traction, valued at approximately €170 million, consists of engineering, construction, delivery and warranty coverage.
The double-decker KISS trains will operate on routes in Slovenia whereas the single-decker FLIRT trains are intended for cross-border use on standard gauge track between Slovenia, Austria and Croatia. The first units are expected to be delivered 24 months after the contract signature date.
"The signing of this contract with Stadler is the first step toward modernising rail passenger transport in Slovenia. With new modern trains we are taking a step forward in the renewal of our fleet and as a result in the satisfaction of our customers," commented Dusan Mes, General Manager of Slovenske Železnice.
The Slovenian state rail operator will be able to operate routes with mixed trains composed of single-decker and double-decker cars as well as using the single-decker vehicles in double traction.
Peter Jenelten, Deputy Group CEO and Head of Marketing & Sales, commented: "Stadler is very proud not only to be delivering trains to Slovenia for the first time, but also to be able to construct a complete series of different vehicles that have been coordinated with each other to form a uniform fleet."
The 11 four-car electric FLIRT trains with their long car body are designed to be operated at a maximum speed of 160km/h. They are 80.7m long, 2.82m wide and 4.12m high. The trains can seat 235 passengers, offering standing room for an additional 227 people.
With the same maximum speed, the 10 three-car electric KISS trains are 79.84m long, 2.80m wide and 4.63m high. The trains can seat 292 passengers with space for 264 standing passengers.
The five three-car diesel-electric FLIRT DMU trains have a lower maximum speed of 140km/h with a length of 70.4m, a width of 2.82m wide and a height of 4.12m. The smaller trains seat 171 passengers with standing availability for 167 people.