TfL's Elizabeth line maintenance depot begins operations
As well as playing a key part in the running of the Elizabeth line, the new maintenance depot – partly powered by renewable energy – is essential in displaying TfL's sustainability efforts…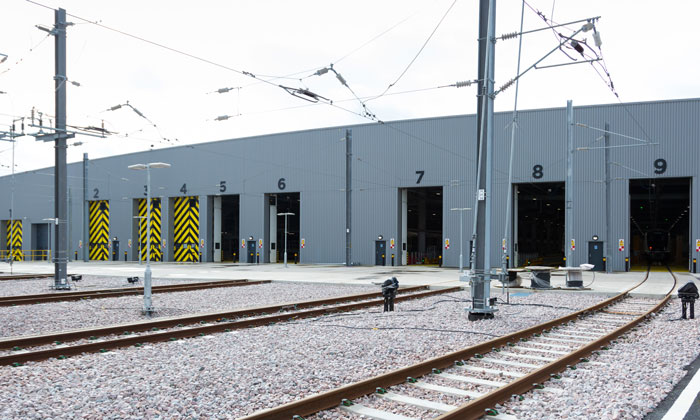 Transport for London (TfL) has begun operations at a new train depot at Old Oak Common which will house and maintain up to 42 of the Elizabeth line's 70 new trains.
The maintenance infrastructure at Old Oak Common will play a critical role in the day-to-day operation of the Elizabeth line when it launches in seven months' time.
Howard Smith, Operations Director for TfL Rail and the Elizabeth line, said: "It's great to see the progress that has been made at Old Oak Common since work began four years ago. Our new depot will not only allow us to introduce our new TfL Rail service from Paddington to Heathrow Airport in May 2018, but it will also be home to the new Elizabeth line train fleet. Old Oak Common will be vital in helping us to maintain our 70 brand new trains over the years to come."
Over 30 per cent of TfL's new maintenance facility will be powered by an innovative renewable energy system, bringing increased sustainability credentials to the TfL network. The hybrid renewable energy system integrates ground source heating and cooling from a combination of energy piles and 150m deep bore holes. Three different types of thermal technologies create a system which will help control the temperature of the main depot building.
Old Oak Common is the first rail depot in the UK to introduce these environmentally-friendly measures to this extent. Compared to being built without the energy sources, TfL's running costs would be a lot higher and over 500 tonnes of CO2 emissions extra each year would be released.
The Elizabeth line is set to redefine transport in London with quicker, easier and more accessible journeys. From 20 May 2018, new Elizabeth trains stabled at Old Oak Common will initially run from Paddington to Hayes & Harlington, with the Heathrow Connect trains continuing to operate to the airport. For the first time, customers will be able to use Oyster and contactless payments on the whole route between Paddington and Heathrow with daily fare capping limiting the cost of travel to and from the airport.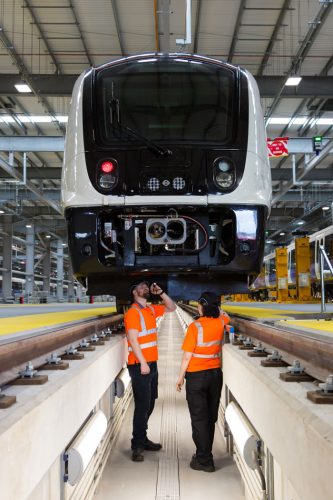 MTR Crossrail will operate the Elizabeth line and the majority of their drivers are now based at Old Oak Common, where they are training with simulators that replicate a number of real-life scenarios.
The Old Oak Common depot has 33 stabling roads and nine roads for the heavy maintenance of wheels, motors and other rail components. An on-site train wash facility will see that trains are deep-cleaned on a regular basis. Bombardier – who are building TfL's 70-strong fleet of Elizabeth line trains – will operate the facility as part of a 32 year-long construction and maintenance contract that was signed in 2014.
Steve Murphy, MTR Crossrail's Managing Director, said: "The new driver depot at Old Oak Common provides a great environment for our driver team to work in collaboration with Bombardier to deliver reliable Elizabeth line services. The training simulators have been essential in providing route familiarisation and scenario-based training for our drivers to be ready for Elizabeth line services from December 2018."
The opening of the new Elizabeth line depot at Old Oak Common supports the Mayor's Transport Strategy, which aims to reduce carbon emissions from non-road transport sources by using renewable energy systems.