Elizabeth line fares to be the same price as a similar Tube journey
Transport for London (TfL) have announced that Elizabeth line pay-as-you-go fares within Zones 1-6 will be the same as the fares on existing TfL services, ensuring affordable travel for millions of Londoners when the railway opens through central London in December 2018.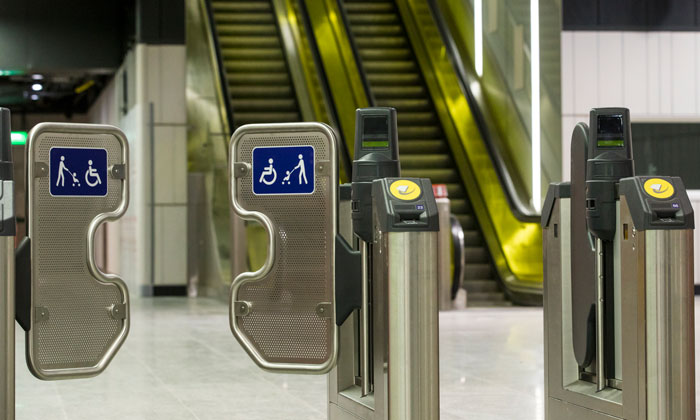 Ticket gates installed in Canary Wharf Elizabeth line station
The announcement means that journeys on the brand-new railway from east London stations such as Whitechapel or Canary Wharf through central London to stations in the west such as Paddington, Southall or Ealing Broadway, will cost the same as an equivalent Tube journey. As a result, passengers on the Elizabeth line will reap the benefits of the Mayor of London's TfL fares freeze, currently benefitting four million transport journeys across London every day.
All customer service and travel information on the line will be fully integrated with TfL's other services, with daily fare capping for Oyster and contactless applying.
Customers will also see savings well in advance of the Elizabeth line opening in December 2018. From Sunday 20 May 2018, the current Heathrow Connect service between Heathrow Terminals 2/3, Heathrow Terminal 4 and Paddington will be transferred to TfL. While TfL zones do not apply to these Heathrow fares, for the first time, customers will be able to use pay-as-you-go with Oyster and contactless across the route all the way from Paddington to Heathrow. Fares will also be cheaper or in line with the current standard fares charged for Heathrow Connect.
Mayor of London, Sadiq Khan, said: "The opening of the Elizabeth Line this year will transform travel across London, with new state-of-the-art trains transporting millions of people more quickly around the capital. I'm delighted to announce [today] that the cost of travelling on the Elizabeth Line in Zones 1-6 will be the same price as a similar journey on the tube – fulfilling a key manifesto pledge to deliver truly world-class transport infrastructure which is also accessible and affordable for all Londoners. For Londoners going to Heathrow, many of the benefits will be felt in a matter of months, with Oyster, Contactless, and cheaper fares coming in when TfL takes over the service from Heathrow Connect in May."
Steve Chambers, Public Transport Campaigner at Campaign for Better Transport, said: "This is good news for Londoners, integrating the Elizabeth line with the familiar Oyster card and contactless bank card ticketing system. Lower fares, particularly at off-peak times, encourage people to travel where there is capacity and can benefit part time workers."
Jasmine Whitbread, Chief Executive of Business Group, London First, said: "The brand-new Elizabeth Line will dramatically improve journeys across our capital and to London's global hub at Heathrow, and ensuring fares are affordable is great news for Londoners and visitors alike. London's businesses have worked hard to support, and help pay for, the Elizabeth line and we're counting the days until it opens its doors."
John Holland-Kaye, Heathrow's Chief Executive, said: "The opening of the Elizabeth line will help make travel to the airport more accessible and sustainable for millions of passengers and colleagues. This service, along with new rail connections to the south and west and HS2 through Old Oak Common, will put Heathrow at the heart of an integrated transport network, reduce traffic around the airport, and improve local air quality."
Opening through central London in December 2018, the Elizabeth line will redefine transport in London with quicker, easier and more accessible journeys. The new railway, jointly sponsored by the Department for Transport (DfT) and TfL, will connect stations such as Paddington to Canary Wharf in only 17 minutes, transforming how Londoners and visitors move across the Capital.
From May 2018, TfL Rail services will operate two trains an hour between Paddington and Heathrow using the existing Heathrow Connect trains, an identical frequency to now. A further two trains an hour will run between Paddington and Hayes & Harlington using the new Elizabeth line trains, replacing part of the Great Western inner suburban route. Testing is underway to allow TfL to introduce the new Elizabeth line trains to the airport.