Britain's rail strategy should focus on national productivity, report claims
A new report, 'Beyond HS2', offers a comprehensive view of what Britain's railway should look like by the middle of the century…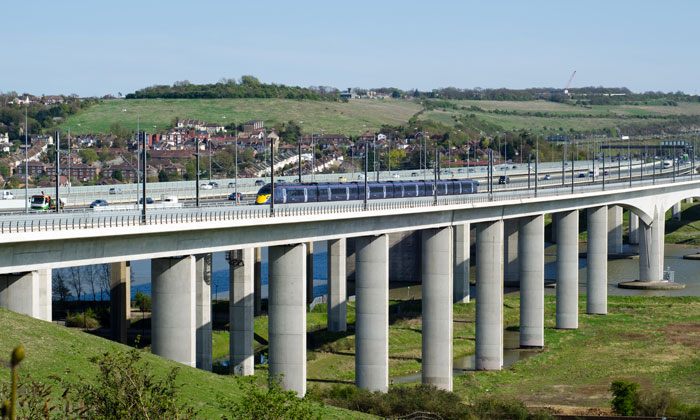 Comprised by Greengauge 21, the new report, 'Beyond HS2', is based on almost a year of analysis and concludes that Britain's rail strategy should, for the first time, have a specific objective to transform national productivity.
Detailed in the report is a proposal for the re-orientation for Britain's railway, transforming to a fully national railway network that links a set of upgraded city centre 'hub' stations.
HS2 would be turned from a 'Y' to an 'X' shaped railway, with a new connection in the West Midlands meaning HS2 trains could operate from Bristol and Cardiff to destinations in the Midlands, the North and Scotland.
The key proposals in the report include:
Fully integrating HS2 into the national network; adding an upgraded fast route from Birmingham to Bristol Parkway which would continue to the South West and South Wales
A major upgrade of the East Coast mainline
New high-speed lines in Scotland, Essex and East Anglia, which would deliver a journey time of 15 minutes from London to Stansted airport
Transformed East West connections in the North of England, bringing together the major cities of Liverpool, Manchester, Leeds, Bradford, Sheffield, Newcastle and Hull
A new rail connection from Kent to Essex, providing a rail freight M25 bypass to London
A series of new and improved city region rail networks to support city-based growth strategies
New direct rail services for Heathrow Airport from across the country and for Manchester Airport, new services from Sheffield and Chester/North Wales.
One of its five co-authors, Greengauge 21 Director, Jim Steer, said: "Britain lacks a long term national railway strategy beyond HS2. We need a plan to put rocket fuel into our economic productivity and this report sets out proposals to do so.
"It is vital for the future of the country that no region is left behind and the national railway strategy needs to reach all parts of the country. To transform productivity across the whole of Britain, we need to transform the connectivity of dozens of cities. Fundamentally, we need to completely re-orientate the railway from a 'hub-and-spoke' centred on London, to a fully national network.
"What we have published provides a wealth of new analysis on connectivity strengths and weaknesses across the country."
There is a long-standing productivity gap in the UK, meaning that the output per worker employed in the UK is well below most of the major international competitors. Britain's productivity continues to fall behind, with ONS figures showing a gap of 16.3 per cent.
The UK's productivity is lower than Italy's by 10.5 per cent, lower than France by 22.8 per cent and lower than Germany by 26.2 per cent.