Siemens highlights connected mobility at InnoTrans 2018
Siemens will display their varying innovations that have been developed to improve the railway sector's operations and services…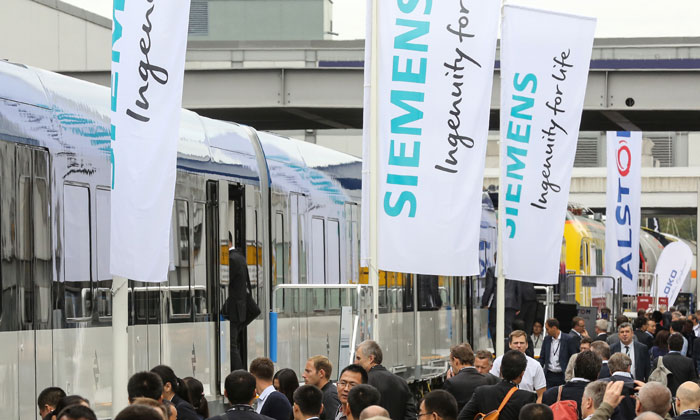 Under the motto "Shaping connected mobility" at InnoTrans 2018, Siemens is presenting digital innovations in an increasingly networked 'total mobility system'.
The solutions are expected to make rail transport even more efficient, safer and reliable and some are detailed below.
MindConnect Rail is a modular and flexible software and hardware solution for ensuring secure data transmissions from safety-critical infrastructures. Utilising all functions of the new data capture unit (DCU) MindConnect Rail provides full and secure access to data as well as guaranteeing cyber-security. This solution from Siemens is a central component of the intelligent transport infrastructure needed for the digital integration of rail and road transport.
MindSphere, the IoT operating system from Siemens, enables new digital solutions for the rail industry through comprehensive data management using artificial intelligence to manage the data.
The Railigent application suite from Siemens enables operators to intelligently use rail data, optimise their maintenance and operations and guarantee 100 per cent availability. Siemens can now provide customers with comprehensive asset management of their vehicle fleets and rail infrastructures.
Siemens also offer a new cloud-based solution that reduces the need for hardware installations. The 'interlocking in the cloud' will revolutionise long-distance rail transport. With this system, interlockings as well as operator control logic can be centralised at one location, free of spatial limitations.
Siemens' Digital Station solutions cover a broad spectrum of functions, ranging from infrastructure management and universal intermodal travel information to data analytics needed to continuously optimise operations. This helps operators achieve 100 per cent availability, increases passenger throughput and improves travel comfort.
Siemens is using 'Building Information Modelling' – a digital twin for the planning, design and construction of complex rail infrastructure projects. This computer-generated model provides an object-oriented, parametric and digital 3D depiction of the planned system.
Siemens is presenting another innovation in the sector of rail electrification at InnoTrans 2018. For the first time, the company can depict a rail system's electrical network and energy flows in a data-based real-time simulation.
At the event, Siemens will be showcasing its products and solutions in Hall 4.2 and in the outdoor exhibition area. In addition to the highlights mentioned above, the company will be showing the following vehicles outside:
Avenio M Ulm
Metro Sofia
Cityval Rennes B
Rhine-Ruhr Express (RRX)
Desiro City Moorgate: 
Desiro ML ÖBB cityjet prototype for battery operation: 
Vectron MS: 
Smartron.
Related topics
Related organisations
Related regions