Travel catering and customer services are key to passenger satisfaction
Customer satisfaction, focusing on travel catering and comfort services, will be exhibited and discussed at InnoTrans 2018…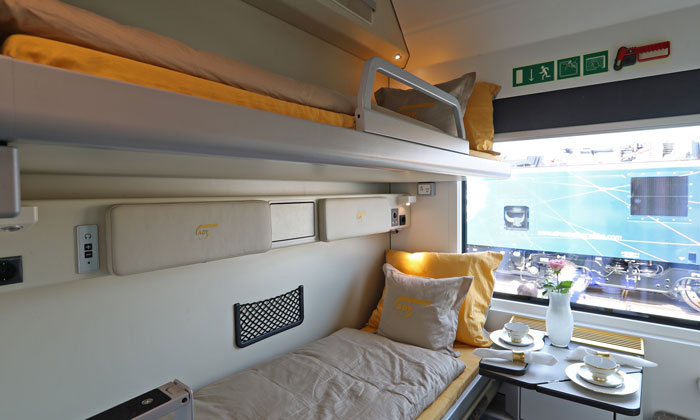 Credit: InnoTrans
At InnoTrans 2018, a section of the Interiors segment will be devoted to travel catering and comfort services; illustrating how important these two aspects are for ensuring customer satisfaction.
Over half of the specialist exhibitors in Hall 1.1 are from abroad and five companies are exhibiting for the first time. From 18 – 21 September 2018, some of the biggest names in the industry, such as Kaelis, LSG, Rex-Royal, MULTI RAIL and Italcarrelli, will be presenting their latest products and services on the Berlin Exhibition Grounds.
"As we have already begun to do in previous years, we want to use InnoTrans to present a full range of services to the main caterers in the railway sector," explained Mario Lopez, General Manager of Italcarrelli. This includes an on-board trolley made with innovative materials and with a built-in, easily removable espresso machine powered by a new kind of lithium battery. "We aim to contribute to improving on-board services, because passengers want to be able to feel at home and enjoy their journey."
For train operators and experts in passenger comfort, one of the highlights of the event will be the new 'Onboard Hospitality Forum' at the CityCube Berlin on 19 September. This is being organised by Onboard Hospitality Magazine and the International Rail Catering Group (IRCG). This is expected to be an ideal way to find out more about relevant market data, new possibilities in on-board catering, exciting new solutions with opportunities for discussions too. The speakers will include Simon Pont, CEO of ECR Retail Systems, Claire Ansley, Customer Experience Director for Virgin Trains East Coast and Manoj Pridhanani, Creative Manager for Kaelis, as well as representatives from Eurostar, RG and Deutsche Bahn.
"Each year, catering and customer services on trains and in lounges are helping railway operators to attract millions of new passengers who would otherwise be using road or air travel," said Chairman of IRCG, Roger Williams. For everyone striving to improve the passenger experience the Onboard Hospitality Forum is an ideal opportunity to learn about the latest trends, innovations, designs and ideas from acknowledged industry experts, Williams explained. "This is the way to increase customer satisfaction and loyalty and to encourage them to make repeated rail journeys."