Siemens presents new high-speed train: The "Velaro Novo"
Siemens began developing the new Velaro Novo concept in 2013 and is expected to place the first trains in service as of 2023…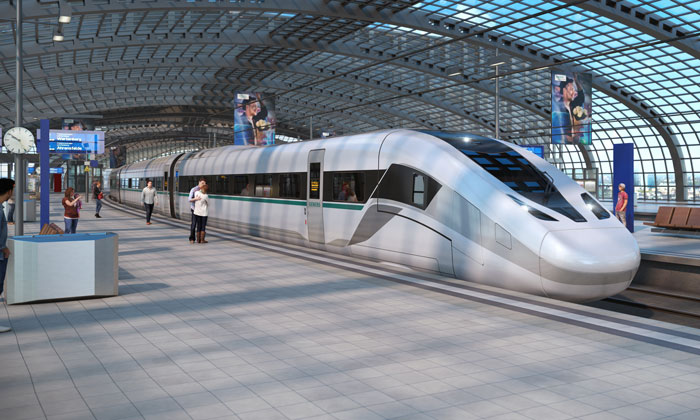 Siemens will be presenting a new concept for high-speed trains at InnoTrans 2018: The Velaro Novo.
Setting new standards for efficiency and sustainability, the new vehicle offers high quality passenger comfort and convenience. Siemens has developed the new high-speed platform to cater for speeds from 250km/h up to 360km/h.
"The Velaro Novo is our answer to global demands in high-speed transport. The train writes a new chapter in the Velaro's success story and enables operators to offer improved passenger comfort and economy over the train's entire lifecycle. What we are presenting is the result of five years of development: A platform offering uniquely optimised energy consumption and maintenance costs, as well as maximum flexibility and reliability," said Sabrina Soussan, CEO of the Mobility Division at Siemens.
Running at 300km/h, the new high-speed train uses 30 per cent less energy than previous Velaro models, giving an average saving of 1,375 tonnes of CO2 per year. Owing to the lightweight construction, the train's weight has been reduced by 15 per cent. At the same time, space for passengers was increased by 10 per cent.
The car body is based on an empty tube concept, meaning there are no permanent installations inside the car and the interior can be furnished according to customer wishes. Configuration options like this make the Velaro Novo future-proof and flexible and the trains can be adapted to operator's needs before or during operation. Maintenance costs are reduced thanks to the integration of state-of-the-art measurement and sensor technology.
Siemens has been testing parts of the new high-speed train since April 2018. The Novo test car, integrated into the ICE S operated by DB Systemtechnik, is currently undergoing test runs throughout Germany.
Siemens previously developed four generations of the Velaro. The trains have been in service since 2000 and are currently operating in Germany, the Netherlands, Belgium, Switzerland, Spain, France, China, Russia, the United Kingdom and Turkey. The Velaro fleet covers over one million kilometres a day.
Related organisations
Related people