NCTD Board approves purchase of new Charger locomotives
To serve on the Coaster commuter services in San Diego, SC-44 Charger diesel-electric locomotives have been approved to replace five vehicles that have reached the end of their useful life…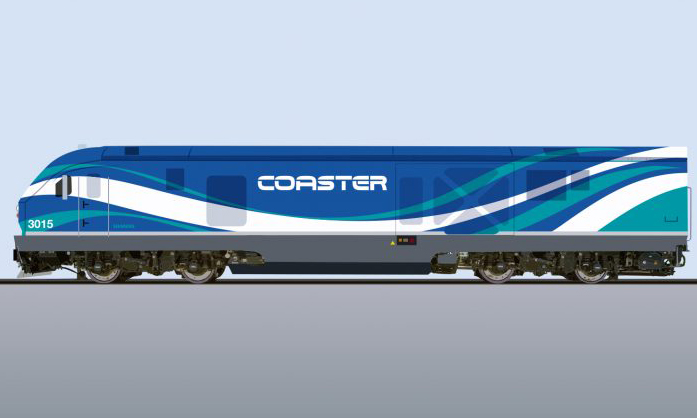 The North County Transit District (NCTD) Board of Directors has approved the purchase of five new SC-44 Charger diesel-electric locomotives from Siemens to replace vehicles that were originally built between 1975-1992.
"These new locomotives will help support our mission to provide reliable public transportation to passengers throughout San Diego County," said Bill Horn, NCTD Board Member and County Supervisor for the 5th District. "In addition to increased reliability, they will incorporate new technologies that reduce emissions and improve air quality in the region."
The new locomotives will allow NCTD to improve operational efficiency while contributing to local and state sustainability and air quality targets, with an estimated 90 per cent reduction in emissions (compared to the existing engines) and 16 per cent reduction in fuel consumption.
"Businesses and commuters throughout San Diego County benefit from the convenience and the presence of the COASTER and they will benefit even more from these updated vehicles," said NCTD Board Chair, Rebecca Jones.
Approval from the Board enables NCTD to purchase the diesel-electric Siemens Charger locomotives as part of a multi-state procurement with the California and Illinois Departments of Transportation. This joint agreement saves the District money due to lowered procurement costs and the size of the procurement aids the future acquisition of needed parts as the same type of vehicle has already been purchased in multiple states.
Janet Rogers, from the Train Coalition at Santa Fe Depot, noted: "The benefit of having cleaner-burning engines is of utmost importance to residents along the corridor. The new dependable equipment will thrill the thousands of COASTER passengers who rely on the trains every day."
The purchase of new COASTER locomotives overall cost over $37 million and has been made possible by State of California funding provided by new revenues generated from Senate Bill 1 (SB1): The Road Repair and Accountability Act of 2017 and $10 million of Carl Moyer grant funds provided from the Air Pollution Control District.
Once the locomotives are received, NCTD is scheduled to add 36 additional COASTER trips each week to the current schedule – six on each weekday, three on Saturday and three on Sunday. The first vehicle is expected to be delivered in March 2021 and the last in June 2021.