New commuter rail locomotive simulator will improve engineer training
By simulating the various conditions and scenarios that locomotive engineers will have to endure ensures they will be prepared to act safely and efficiently in an emergency.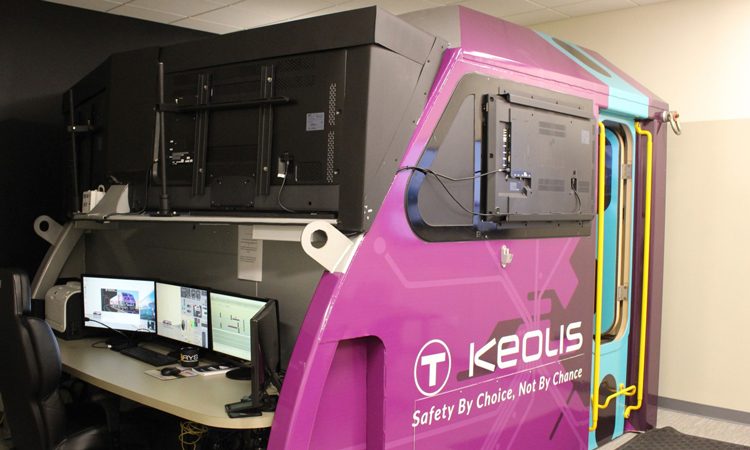 A new locomotive simulator lab has been designed, constructed and tested by the Massachusetts Bay Transportation Authority (MBTA) and Keolis Commuter Services, with the aim to provide advanced training for engineers.
The lab consists of a classroom, control car simulator and locomotive simulator, which is constructed from the cab of a retrofitted HSP46 train.
"Our new locomotive and control car simulators are state-of-the-art tools that will help us further improve engineer training and commuter rail performance," said David Scorey, General Manager and CEO, Keolis. "In this new lab, we can create realistic situations on the railroad that we want our current and new engineers to experience. It helps our team be more prepared to operate commuter rail trains and respond to challenges more quickly and effectively."
Depending on the direction of travel, engineers operate commuter rail trains from either the locomotive or the control car, which is the last coach car in the train set. Engineers are already training in the lab and 12 individuals will have completed the first official programme using the simulators on 19 August 2018. Over the next several months, all new and existing engineers will participate in similar training in the simulators.
"Investments like this demonstrate our never-ending commitment to improving upon our culture of safety," said MBTA General Manager, Luis Manuel Ramírez. "Embracing technology like this new simulator lab helps us to re-create situations under life-like conditions and will help bring our training modules to the next level."
Located at the MBTA and Keolis office in Somerville, Massachusetts, the simulators re-create the exact profile of track infrastructure, platforms, stations and buildings along the network. Seat vibrations, sounds and a 360-degree visual experience create a realistic training environment. The controls and features inside the locomotive simulator and the control car simulator match what exists in a real train.
Instructors can adjust the environment to any time of day, reflecting true-to-life light or dark exposures and implement varying weather conditions, such as rain, snow and the fall season when leaves and debris create slippery rail conditions. Previously, engineers would train in these conditions only when weather permitted. Now, with this new lab, engineers can train in any weather condition any time of year. As part of this new programme, engineers will spend 40 hours or more in the simulator, as well as continuing hands-on training with a supervisor.
Design, construction and testing of the locomotive and control car simulators took several years to complete. A ribbon-cutting was held on 6 June with representatives from the MBTA and Keolis.