'Career and Education' holds down a hall at InnoTrans
InnoTrans 2018 has given an entire hall to Careers and Education to inspire the next generation of transport employees, running from 18-21 September.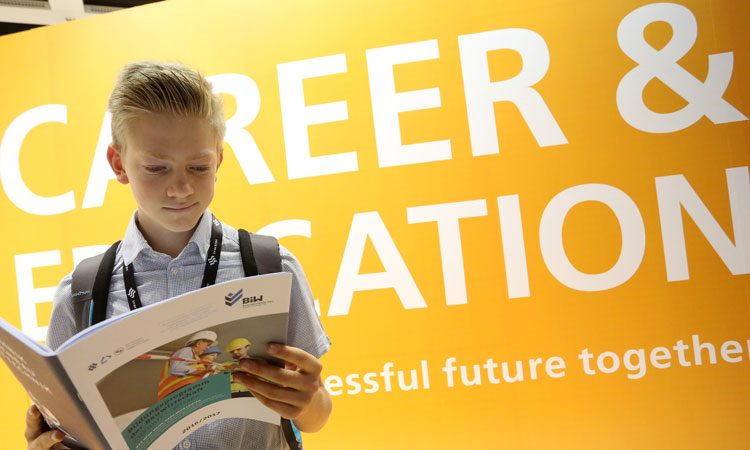 Credit: InnoTrans
InnoTrans is the world's largest and most important information and communication platform for the rail industry.
During 18-21 September 2018, it will be the perfect opportunity to establish new contacts, especially for those looking to make a start in this forward-looking sector. The Career and Education hall at InnoTrans is becoming more and more important for job seekers and rail industry employers alike.
This will be an ideal place for young professionals to get a better impression of the innovative drive of the rail industry.
Inside the 41 exhibition halls visitors can witness more than 140 products making their first international appearance. On the Outdoor Display they can admire over 140 vehicles, with the Bus Display including pioneering examples of electro-mobility.
The programme of supporting events at InnoTrans features exciting and up-to-the-minute topics, including the International Design Forum, Public Transport Forum and International Bus Forum.
The Career Hall (7.1c) is the main place to head for students of all ages, young professionals, career starters and job seekers. This is where, daily from 09:00-18:00, they can meet representatives of the rail industry's global players, small and medium-sized enterprises, trade associations and universities.
They can also meet experienced HR specialists to find out about the latest job and trainee vacancies and perfect their job applications.
The Career Pavilion is the main focus in the Career Hall. Ten exhibitors will be represented, available to give advice, hold job interviews and exchange experiences. Taking part are Akiem, AKKA Deutschland, Axians GA Netztechnik, IFV Bahntechnik, mgw Service, Omexom Service, SIGNON Deutschland, Stadler Pankow, TÜV SÜD Rail and Vossloh.
Every day, interesting lectures on specialist subjects as well as fascinating panel discussions will be taking place at the Career Forum in Hall 7.1c. For example on 19 September, a lecture will be held on modern rail vehicles and innovative rail infrastructure and the development and delivery of new rail systems in Europe.
Career Forum highlights will include the HackTrain Hackathon final on 21 September from 14:00 to 16:00, where the top teams will be competing to design the most innovative app, software or website prototype within the running time of the trade fair. 
The Job Wall in Hall 7.1c provides an immediate overview of exhibitors' latest job vacancies both at home and abroad. Those in search of jobs will have a unique opportunity to talk about vacancies with the relevant companies directly at their booth.
Visitors can make use of the Online Job Market at the Virtual Market Place in order to make optimum preparations for the trade fair. Exhibitors offering job vacancies are also recognisable by the Career Point logo both at their booth and on the Virtual Market Place website. Job seekers wishing to meet prospective employers should keep an eye out for the orange-coloured, circular CP logo.
The InnoTrans Career Awards, which honour the pioneering achievements and ideas of talented young professionals from around the world, are further proof of the importance of promoting specialist newcomers and their careers. Associations from Germany, Italy, USA, Canada and Australia are sponsoring this year's prizes. 
InnoTrans Exhibition Director, Kerstin Schulz, said: "We are greatly looking forward to the award winners and are keen to find out what impressions these talented young professionals will be taking home from InnoTrans."
Besides reduced-rate tickets for students and trainees (€13) another special service is also available: the Career Tours. These will take place three times from 10:00-16:30 on each day of the trade fair. Hall 7.1c is the meeting point for participants, who can register online or directly at the trade fair.
On 19 September, Allianz pro Schiene will be honouring the 'Mobility Designer of the Year' and under the heading of 'Young professionals in the rail sector', DVV will be extending an invitation to an event at their booth at the CityCube. On 20 and 21 September, under the slogan of 'Start your day with fresh coffee – and the job of your dreams' an invitation will be extended to the Career Breakfast event in Hall 7.1c and on 21 September, SPITZKE will be organising a Career Day, providing an introduction to its jobs and careers at their booth in Hall 26.