Rail Leaders´ Summit: Visions for the cities of the future
On 18 September at the InnoTrans Convention, the Rail Leaders´ Summit 2018 will focus on a topic of major importance – the future of cities and rail.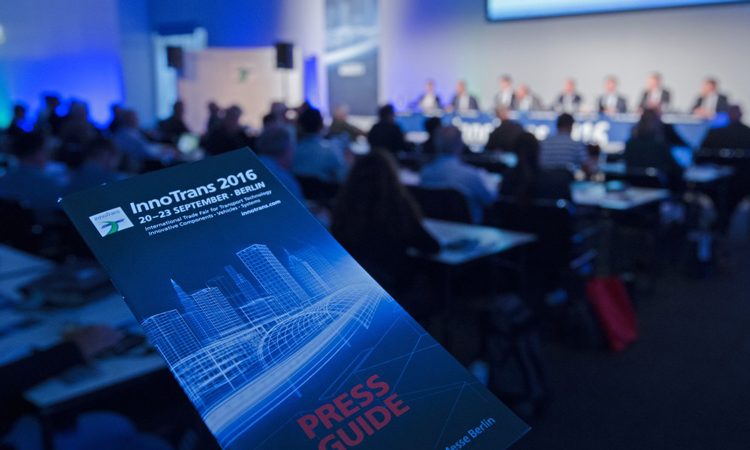 Credit: InnoTrans
Approximately 400 guests from across the world have been invited to the exclusive Rail Leaders' Summit, at which high-ranking politicians and executives will discuss the future demands on environmentally friendly public transport in urban areas and megacities around the globe.
In the future, efficient transit systems will have a decisive impact on the quality of urban life. Faced with the rapid spread of urbanisation, what new demands must railway companies satisfy? How can megacities acquire even faster and more comfortable transport links?
Opening the summit will be Minister Andreas Scheuer. European Commissioner for Transport, Violeta Bulc, will deliver a keynote speech on Europe's infrastructural policies.
Among the panel members will be Henrik Hololei, Director General for Mobility and Transport of the European Commission and Chad Edison, Deputy Secretary for Transportation of the California State Transportation Agency. California, which has some of the most densely populated conurbations in the U.S., is pressing ahead with a high-speed rail link that will connect major cities.
Also taking part will be Ashwani Lohani, Chairman of the Indian Railway Board, which has over 1.5 million employees. In 2017 India passed the 'National Rail Plan 2030', which aims to expand and integrate rail systems into a multimodal transport network.
Taking part in the discussion will be Oleg Belozerov, CEO of Russian Railways. Moscow now has an orbital railway line around the city which plays a decisive part in managing the flow of transport in the Russian capital. Expansion work is also taking place on high-speed rail links, including from Moscow to Kazan.
Li Wenxin, Vice General Manager of China Railway, will also be present. Over the past 10 years China has built the world's largest high-speed rail network, which connects the country's major cities.
Completing the panel will be Dr. Richard Lutz, CEO of Deutsche Bahn. Together with other organisations Deutsche Bahn aims to make rail travel even more attractive by "investing, modernising and digitalising". In order to meet the challenges of ever-increasing traffic flows, especially in and between conurbations, as well as the contemporary demands of customers, Deutsche Bahn is placing its emphasis on seamless multimodal transport and high-speed rail links between cities such as Munich and Berlin. The discussion will be moderated by Karin Helmstaedt, a TV presenter from Deutsche Welle.
Related topics
Related regions