Stadler is testing new Greater Anglia trains in the Czech Republic
From now until early 2019, Stadler will be carrying out tests at the Velim Test-Centre on bi-mode and electric trains for Greater Anglia.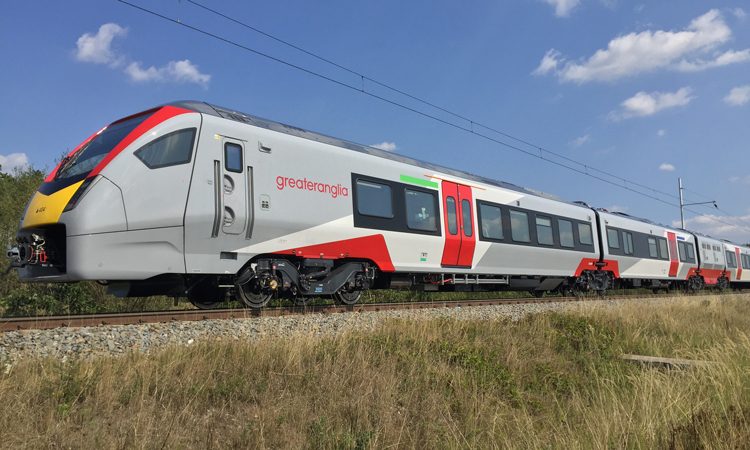 At the Velim Test-Centre in the Czech Republic, three and four-carriage bi-mode trains and 12-carriage electric trains will be tested by Stadler in preparation for further testing and eventually passenger service within the Greater Anglia network.
Voltage levels, brakes, the traction system and the pantographs, noise levels and electro-magnetic emissions will all be measured on the trains at the Velim Test-Centre, which is 70km east of Prague.
Testing at this location began at the end of August 2018 and is likely to take approximately four months.
Stadler is making a total of 58 trains for Greater Anglia, including 38 'bi-mode' trains, designed to switch between electric and diesel power. Bi-mode units are fitted with modern diesel engines, which can be used when operating on electrified lines. This will reduce emissions and make journeys more comfortable for passengers.
All of the bi-mode trains will run on regional routes in Norfolk, Suffolk, Essex and Cambridgeshire.
The testing phase for the Greater Anglia trains started in May 2018 in Erlen, Switzerland and is currently being conducted at various sites in Europe, including Faurei in Romania and Halle in Germany, as well as Velim and Erlen. Each site has its own area of specialism and simultaneous testing at several locations means that production can be undertaken as efficiently as possible.
The Swiss rail-manufacturer is also making 10 electric Intercity trains and 10 electric Stansted Express trains for Greater Anglia, which will start arriving in the UK for further testing and commissioning in the first quarter of 2019. The first bi-mode train will be brought to the UK for testing in October 2018 and trains will gradually be introduced into passenger service from mid-2019. All trains are set to be in operation within 12 months from then.
Martino Celeghini, Project Manager for Stadler, said: "Each of the 58 trains we are supplying is from the latest generation of our best-selling, highly successful FLIRT family. The FLIRT is Stadler's flagship product, featuring low floor and level boarding for improved accessibility, passenger comfort and safety. The testing phase signifies a critical landmark in the process of making and finishing the trains and it's only by effective collaboration with our client that the project has been able to make such good progress."
The Velim Test Centre, owned by the Railway Research Institute, has two test tracks, and is one of the main testing locations for new types of rolling stock intended to be used in Europe.
Jamie Burles, Managing Director of Greater Anglia, said: "It's really exciting to be able to see the first of our Stadler trains in action. We're sure that these trains, which will all be fitted with more seats, air conditioning, plug and USB points, free fast Wi-Fi and accessible toilets will transform train travel in East Anglia."