Malaysian rail industry to benefit from Bombardier joint agreement
At InnoTrans 2018, Bombardier Transportation signed a Memorandum of Understanding (MoU) with 'MIGHT' – the Malaysian Industry Government Group for High Technology – outlining their collaboration on developing home-grown rail industry expertise over the next year.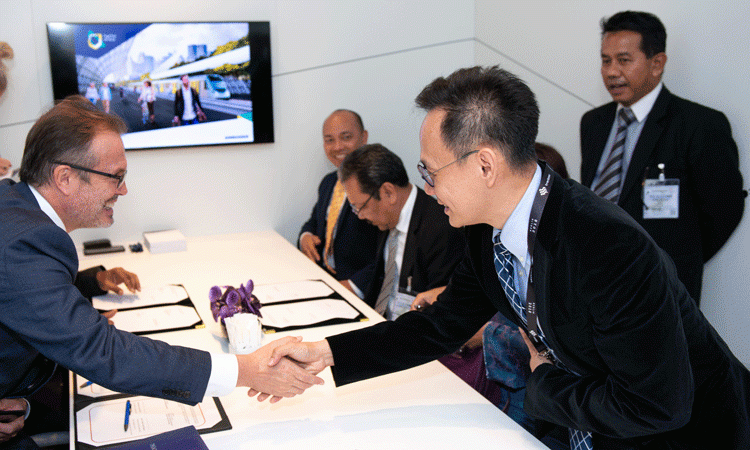 Laurent Troger, President of Bombardier Transportation and Datok Dr. Mohd Yusoff Sulaiman, President & CEO of MIGHT, as well as representatives from MIGHT and Bombardier Transportation, signed the rail industry expertise MoU at InnoTrans 2018.
The collaboration with MIGHT – an agency under the Malaysia Prime Minister's Department with a mandate to develop high technology industries – will support small and medium enterprises from the manufacturing and maintenance, repair and operations sector by enhancing their technical rail industry skills. In Malaysia, for the last two years Bombardier has been actively implementing a graduate programme along with university associations to prepare young talent as well as expand their capabilities in the rail industry.
Datuk Dr. Mohd Yusoff Sulaiman, President and CEO of MIGHT, said: "We greatly appreciate Bombardier's active participation in the development of both the capacity and capability of small and medium enterprises in Malaysia. MIGHT developed the Rail Industry Development Blueprint in 2012 through an Industry-Government consensus on the future direction for the local rail industry, focusing on securing more business for local players, human capital development as well as research and technology. MIGHT is also appreciative of the efforts by SME Corporation, being the funder for the High Impact Project for rail sector and the Malaysia Rail Industry Corporation for promoting this programme among its members."
Jayaram Naidu, Head of Southeast Asia, Bombardier Transportation, commented: "At Bombardier, we are committed to developing local expertise in the rail industry and investing in the communities where we operate. With several significant collaboration milestones in Thailand, Singapore and Malaysia focused on developing local talent over the past four years, we believe these initiatives will drive productivity, increase performance and improve competitiveness – ultimately raising rail industry performance regionally as well as globally."
Related organisations
Related regions