Positive Train Control one step closer for COASTER commuter trains
San Diego COASTER commuter trains are one step closer to being fully integrated with the Positive Train Control (PTC) safety system, according to North County Transit District (NCTD).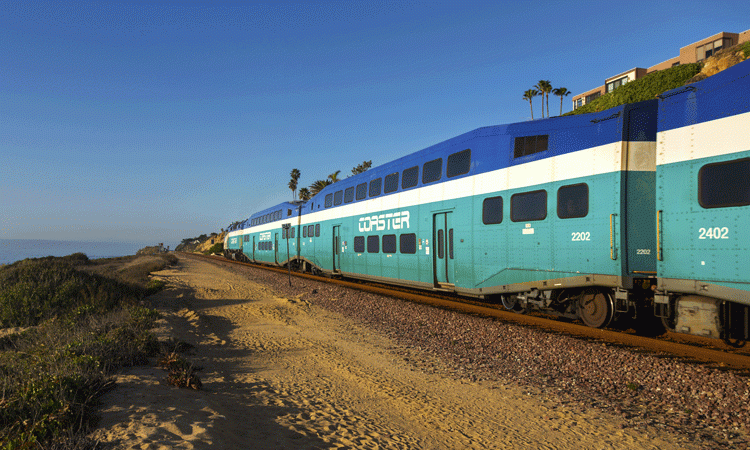 PTC is an integrated command, control, communications, and information system that alerts train engineers when certain unsafe conditions exist, and stops the train when conditions warrant. PTC is designed to prevent train-to-train collisions, derailments caused by excessive train speeds, train movements through misaligned track switches, and unauthorised train entry into work zones. This system increases the safety of all who use the rails.
NCTD have completed the federal requirements for Revenue Service Demonstration (RSD) which was the final stage for demonstrating the system performs as intended and began Extended RSD of PTC in December 2017. The conditions were met for entering into Extended RSD which included 30 consecutive trips without a critical failure of the PTC system, and 75 per cent of the COASTER engineers having operated a train in RSD. All COASTER engineers have now been trained.
To complete Extended RSD and enter into Full Revenue Service Implementation of the PTC system, NCTD operated all trains under PTC, all engineers operated PTC in Extended RSD, and on 21 September 2018 the Federal Railroad Administration (FRA) gave conditional approval to NCTD's PTC Safety Plan and conditionally certified its PTC system – one of only 10 railroads in the nation to receive this conditional approval. The Safety Plan demonstrates to the FRA that NCTD's PTC system meets all of the federal requirements and works as stated. It contains information on how NCTD will ensure the safety of the system with a variety of components, including: A railroad training plan; procedures and test equipment; operations and maintenance manual; configuration and revision control measures; initial implementation procedures; and post implementation testing and monitoring procedures.
Conditional approval of the PTC Safety Plan now enables NCTD to enter into interoperability testing, which means that other carriers such as passenger, commuter, and freight trains who operate on NCTD-owned rail can test their PTC system for integration with NCTD's PTC system. These tenant rail partners – Amtrak, BNSF, Metrolink, and Pacific Sun Railroad – must be able to seamlessly communicate and operate across all railroad systems.
Eric Roe, Deputy Chief Operations Officer of Rail, said: "We at NCTD, along with Herzog staff, have worked diligently to integrate this system into our current equipment and we are looking forward to testing the system with our partner rail operators who utilise our track."
The Rail Safety Improvement Act of 2008 (RSIA) requires railroads to install PTC systems on tracks that carry passengers or toxic-by-inhalation materials. Based on a January 2012 final FRA rule, the Association of American Railroads estimates that PTC technology will be deployed on about 63,000 miles of U.S. freight rail lines. The RSIA mandates that PTC be put into service by 31 December 2018, and NCTD is on track to complete full implementation of PTC by this deadline.