Green initiatives on the East Coast Main Line deemed a success
The sustainable efforts have helped Network Rail achieve a BREAAM excellent rating – the second highest rating given by the Building Research Establishment's method of assessing, rating and certifying the sustainability of buildings.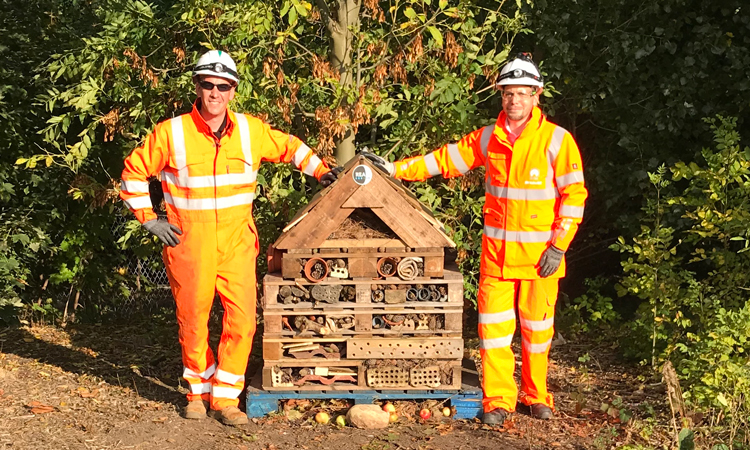 REAL's Construction Manager, Rob Mercer, left, and Environmental Manager Simon Hughes with the Bug Hotel at Bawtry
Network Rail has witnessed tangible benefits from a range of environmentally-friendly initiatives that were introduced on the East Coast Main Line.
During the refurbishment of King's Cross station, which took place between 2006 and 2012, Network Rail introduced a range of measures to make the station more sustainable, including rainwater harvesting, water saving taps, extra insulation and 2,300 square metres of solar panels.
The solar panels were specially designed to integrate with the iconic design of the Grade I listed building and have reduced carbon dioxide emissions at the station by over 40 tonnes. The panels have generated one million kilowatts of electricity, saving £125,000 in utility costs.
Elsewhere on the route, biodiversity has been increased and money saved by reusing waste materials to create dedicated insect habitats, known colloquially as bug hotels. The hotels combine leftover items including wooden pallets, cable ducting and terracotta pots with natural materials such as pine cones, twigs and logs to create an environment that mimics natural habitats.
The first such habitat has been created at Bawtry by the Rail Electrification Alliance (REAL) who aim to replicate them at all of their compounds. REAL is delivering an enhanced power supply on the East Coast Mainline to support the Thameslink and Intercity Express Programmes and the introduction of new faster, quieter and cleaner trains on the route.
Rob McIntosh, Network Rail Route Managing Director, said: "Network Rail is committed to being as efficient and sustainable as possible. Whether it's reducing our bills through the use of renewable energy or by cutting down on the amount of waste we generate, we are doing what we can to be more sustainable. We now want to encourage our retail tenants, contractors and station users to do their bit to cut down on waste, increase recycling and be more environmentally friendly."
As a company, Network Rail already diverts 94 per cent of its waste away from landfill. The organisation has also pledged to ban retailers from supplying plastic cutlery and cups in managed stations by the end of 2020; implement a coffee cup recycling scheme for managed stations by the end of 2020; and expand the roll out of coffee-ground recycling to all managed stations by the end of 2020.
These goals are complemented by the recent initiative to begin installing free water fountains in stations, making it as easy as possible for the 900 million users that pass through to refill their bottles on the go and reduce the use of 1,000 plastic drinking bottles per week.