Heathrow Express celebrates 20 years of sustainable service
To mark its 20th anniversary of sustainable service, Heathrow Express has launched a poster campaign created using some of the tonnes of rubbish left on its trains every year.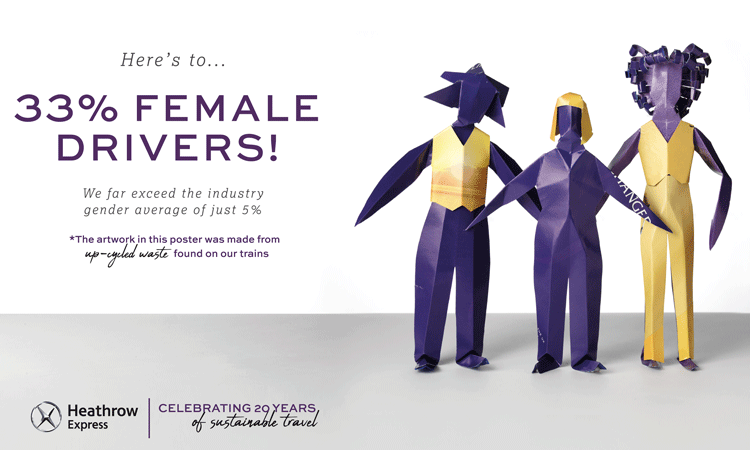 The posters run along the breadth of the Heathrow Express walkway at London Heathrow Airport Terminal 2, and tell the company's sustainability story over the past two decades.
Chris Crauford, Head of Commercial at Heathrow Express, said: "We felt it was time we were more vocal and confident in our sustainability credentials and this has been our most ambitious attempt yet to engage passengers in them. Increasingly, consumers are committing to more sustainable approaches to travel and are interrogating brand's individual approaches. We think many people will be surprised about how conscious we are in our operations – from the waste we recycle to our gender diversity commitments."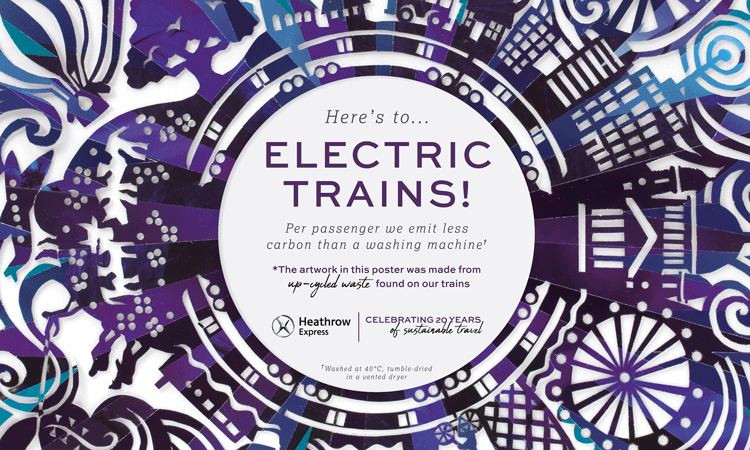 Cups, plastic bottles and free newspapers found on Heathrow Express trains have been upcycled into mini works of art by award-winning illustrator and paper sculptor Rebecca Sutherland, and photographed for the posters. Hundreds of thousands of travellers using the Heathrow Express service will now see the company's sustainability achievements such as how the number of female drivers exceeds the industry average1, how none of its waste goes to landfill, the fact that their fleet of trains are all-electric and that children travel for free.
The campaign, devised by Given London, reflects the growing importance of sustainable travel amongst consumers – a reality increasingly recognised by travel providers.
Heathrow Express' sustainability strategy supports the Heathrow 2.0 strategy for sustainable growth. Each of the themes in the posters on display feed into the four pillars of Heathrow's wider sustainability ambitions: Being a great place to work, a great place to live, a world worth travelling and a thriving, sustainable economy.
Reference:
One third of the drivers employed by Heathrow Express are women
Related topics
Related organisations
Related people