Financing for Stage Two of the UAE national rail network has been agreed
The Ministry of Finance and Abu Dhabi Department of Finance sign agreement for financing Stage Two of the UAE national railway network.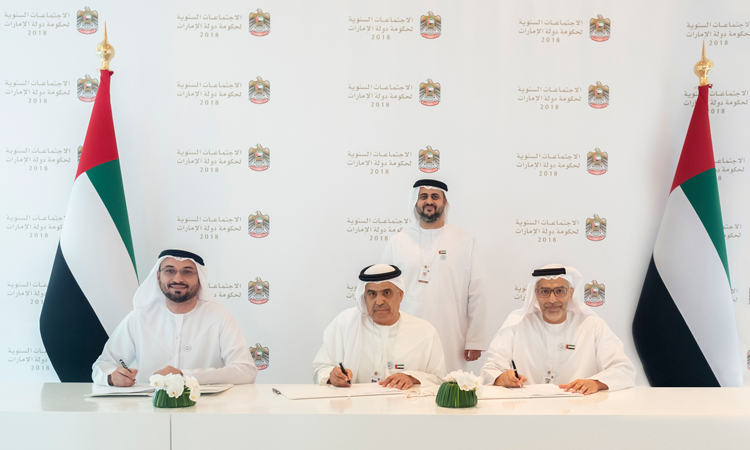 His Excellency Obaid bin Humaid Al Tayer, Minister of State for Financial Affairs, His Excellency Riyad Abdul Rahman Al Mubarak, Head of the Abu Dhabi Department of Finance, and Etihad Rail, signed the agreement
The UAE Ministry of Finance and the Abu Dhabi Department of Finance have signed an agreement for the financing of Stage Two of the Etihad Rail national rail network.
Stage Two will extend 605km from Ghuweifat on the border with Saudi Arabia to Fujairah on the east coast, to be followed by future route additions. The volume of goods transported will increase from seven million tonnes per year on Stage One to more than 50 million tonnes.
His Highness Sheikh Theyab bin Mohamed bin Zayed Al Nahyan, said: "The budget approval for Stage Two of the national railway network reflects the keenness of our leadership to implement national strategic projects."
H.H Sheikh Theyab added that this national project is a qualitative leap and establishes a new transport sector in the UAE. "It achieves many benefits and advantages locally and internationally, connecting the emirates and linking industrial areas, boosting economic diversity and supporting economic and social development in the country.
"At Etihad Rail, we are working with a strategy to meet our mission and objectives. This project is part of our commitment to the UAE to help it achieve a leading position in transportation quality, in line with UAE Vision 2021, which aims to transform the emirate's economy into a competitive knowledge economy by transitioning to a knowledge-based economy, promoting innovation and research and development, strengthening the regulatory framework for key sectors, and encouraging high value-adding sectors. These will improve the country's business environment and increase its attractiveness to foreign investment. This is why the national railway network serves as a catalyst for economic growth by connecting key commercial and industrial centres and providing a safe and reliable means of transportation for future generations.
"The company will be achieving a number of economic benefits, such as improving the transport and shipping sector in the UAE by linking ports, manufacturing and production points, and population centres. The network will help to support future growth with a sustainable, safe, modern and cost-effective transport system, as well as contribute to reducing the number of vehicles on the roads, which will yield tangible benefits from both economic and environmental perspectives. By adopting global standards, the Etihad Rail network will improve the movement of goods and people by creating new trade corridors."
In 2015, Stage One of the project, which extends 264km, was delivered, linking the Shah and Habshan gas fields in the Al Dhafra region of Abu Dhabi to the port of Ruwais on the Arabian Gulf, with a capacity of transferring 22,000 tonnes of sulphur granules daily; 20 million tonnes have been carried in total.
Etihad Rail is now in the advanced stages of commercial and technical negotiations with an extended range of potential partners.