UWC Holding wins Deutsche Bahn tender for delivery of flat cars
Deutsche Bahn will soon receive articulated container flat cars from Russia following the successful bid from United Wagon Company.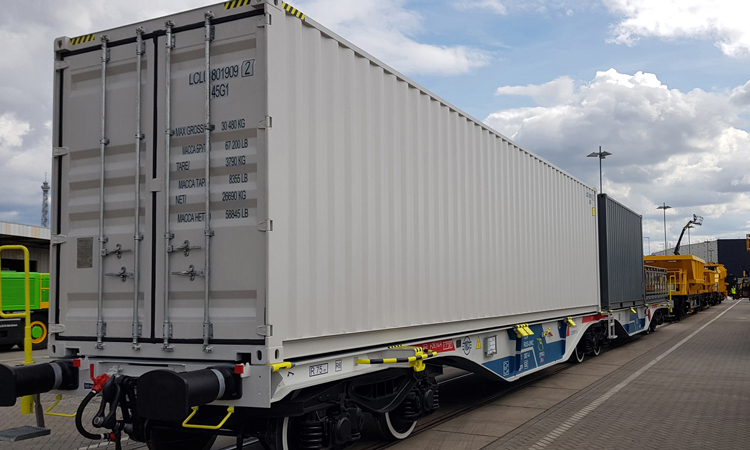 United Wagon Company (UWC) has won an international tender by Deutsche Bahn (DB) to supply Sggrs80 articulated container flat cars.
A total of 130 cars will be supplied in the first half of 2020. Additionally, DB may order a further batch.
UWC's main competitors in the tendering competition were leading companies from Europe and the U.S. and their entrance to the EU market represents a breakthrough for the Holding's export strategy.
The 80-foot articulated Sggrs-model flat car has a payload capacity of 108.6 tonnes, enabling it to transport various standard-sized ISO containers, tank containers and swap bodies with a gross mass up to 36 tonnes. The flat car is designed to be more light-weight than standard analogues now operating in Europe. The bogies have an axle load of 22.5 tonnes and the car is intended for operation on the 1,435mm rail gauge.
Maxim Kuzemchenko, Managing Director at UWC, said: "Designing a car for DB was a very ambitious objective for UWC. It would be possible to enter the European market offering cars with a simpler construction for ordinary freight companies, but we decided to offer something more sophisticated, because DB sets extremely high standards for the quality of processes and implementation. Within a year, we carried out R&D work, worked on the design with our German colleagues, studied existing European standards, prepared our manufacturing facilities and personnel, and built links with international suppliers. I am confident that this project offers our company huge potential on the international market. Our capabilities to produce 20,000 freight cars annually will help European customers cover their needs in situations where local producers are overbooked with orders. We are ready to offer all types of rolling stock for the transportation of gases, bulk and other cargos to customers around the world."
The cars for the European market will be manufactured at UWC's production site in the town of Tikhvin (Leningrad Region). The car assembly certification for compliance with the European TSI standard will be carried out by the end of 2019.
Martin Kretschmer, Head of Procurement of DB, commented: "I am very pleased to welcome UWC as a new supplier for DB. We rely on strong suppliers such as UWC to help us further increase our rail freight business. We look forward to receiving the first freight cars from Russia."