New Stadler trains for Liverpool City Region reach important stage
Next stage in production of Stadler trains for Liverpool City Region successfully completed as client, Merseytravel, approves bogies.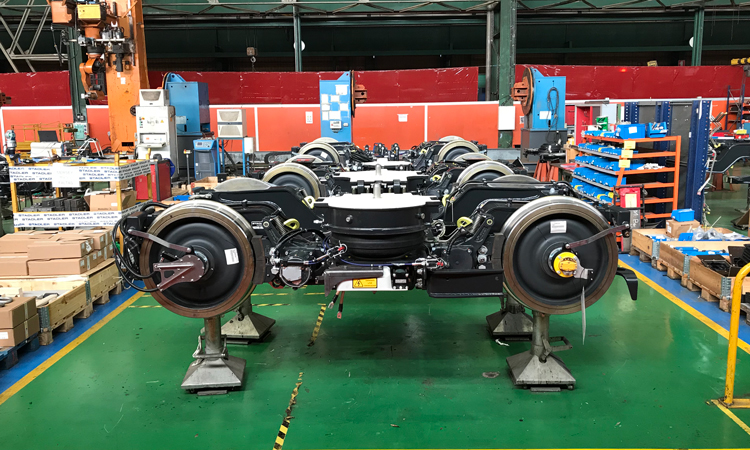 The manufacturing of 52 trains for the Liverpool City Region is making good progress, and the bogies have successfully completed the first article inspection by Merseytravel.
This approval is highly significant and means that within a few weeks the bogies can be transported to Switzerland and Poland, where they will be connected to bodyshells to create four-carriage trains.
A total of 267 bogies will be made, all produced in Valencia, Spain. All bogies are scheduled to be attached to the bodyshells by August 2020 in a process known as the 'marriage'.
Project Manager, Matthias Hämmerle from Stadler, said: "The process of building trains is a series of landmark events, all of which have to be given the green light by the client. Securing authorisation for the bogies is just one of these landmark events, which ultimately will see brand new, technologically-sophisticated trains enhancing the customer experience and boosting the regional economy."
Final assembly, which involves fitting the main vehicle components and the driver's cab, started in October 2018 and is now continuing in Altenrhein, Switzerland. In April 2019, the same process will begin in Siedlce, Poland. Stadler engineers will soon start attaching the driver's cab to trains and the first train will be ready for testing by the spring. Following a period of intensive assembly and testing, vehicles will be introduced for passengers from early 2020.
David Powell, Rolling Stock Programme Director at Merseytravel, said: "The use of Jacob's bogies is unusual for the UK mainline railway, but Stadler's compact, lightweight design with high installed power is an integral feature of our new fleet."
Andy Heath, Managing Director at Merseyrail, concluded: "The project continues to take shape with this milestone in the production process and the continuation of platform upgrades at our 67 stations as we prepare for the new trains. It is an exciting reminder of how soon our passengers will be able to experience a transformational change in rail travel on our network."