European rail freight companies enhance ambitions to fight climate change
Rail Freight Forward is convinced that rail has a crucial role to play in building a more sustainable freight sector, that will help Europe realise its climate ambitions.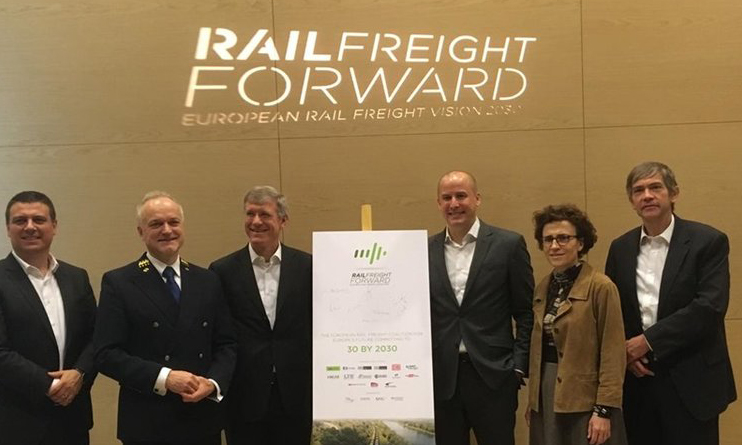 Rail Freight Forward, a coalition of rail freight companies and federations from across Europe, has committed to help save up to 290 million tonnes of CO2 transport emissions over the next decade.
With 275 million tonnes of CO2 emissions per year, freight transport represents almost a third of total transport emissions, passenger transport included. At an estimated growth rate of 30 per cent by 2030, the climate impact of freight transport is expected to increase substantially over the coming years.
To avoid this increase, Rail Freight Forward aims to boost the share of rail in overall freight transport from 18 per cent to 30 per cent by 2030. With rail freight emitting nine times less CO2 than road freight, this modal shift from road to rail is a crucial step to help the transport industry reach its climate targets as defined in the Paris Accord.
The 30 per cent target is ambitious, but the European rail freight sector is determined to deliver the sustained efforts needed. The members of Rail Freight Forward are committed to work together to transform and modernise the rail freight industry, by driving efficiency and standardisation, improving cost-effectiveness and accelerating technological innovation. Each company will step up its efforts to offer competitive products that convince customers to choose rail for its quality, frequency, reliability, flexibility, price and service.
The signatories are urging policymakers and partners to create the necessary external conditions to enable a modal shift from road to rail freight.
If freight transport does grow by 30 per cent, that is roughly the size of the entire German freight transport market or one million trucks being added onto European roads in the coming decade. Looking at the stringent goals of the Paris Accord for the transport sector, it is simply not a sustainable option to keep relying heavily on road freight.
Countries taking measures to provide a clear regulatory framework and fair competition, such as Austria (32 per cent) and Switzerland (37 per cent), clearly show a larger modal share of rail.
Related topics
Related organisations