'Noah's Train' stops in Berlin on its climate protection campaign route
As part of the Rail Freight Forward initiative to increase rail's share of total freight transport in Europe, the train's journey demonstrates the commitment of European freight operating companies to improving climate protection.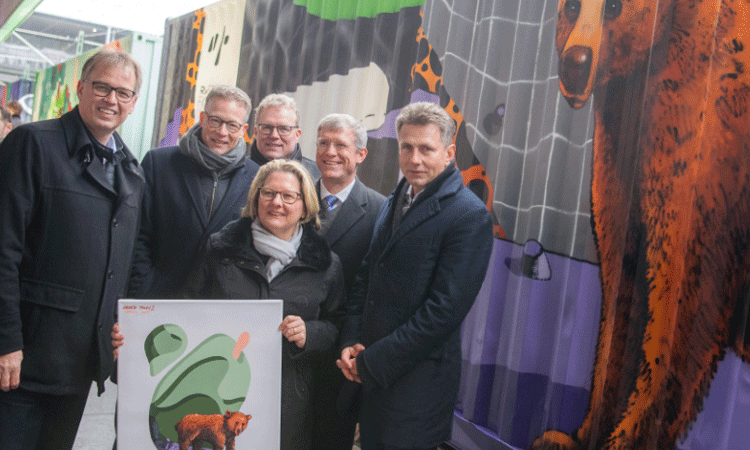 Credit: Deutsche Bahn
In the presence of German Federal Environment Minister Svenja Schulze, who supports the initiative, 'Noah's Train' – the world's longest mobile work of art – was greeted at Berlin's Gesundbrunnen station (24 January 2019) on its journey through Europe. 
Named after the biblical Noah's Ark, this train forms part of the promotion by European freight operating companies of the importance to shift towards more environmentally-friendly rail.
The objective of the Rail Freight Forward initiative of the European freight railways is to increase rail's total share of freight transport in Europe from 18 to 30 per cent by 2030. 
Alexander Doll, DB Director of Finance, Freight and Logistics, said: "Rail drivers are climate protectors – in passenger and freight transport. The performance of DB Cargo alone saves us an annual CO2 emissions of around five million tonnes. That's roughly equivalent to the amount of CO2 that the cities of Aachen and Kassel produce together in 12 months."
Dr. Roland Bosch, CEO of DB Cargo, said: "We are working with our European partners to change the transport mix of the future. If 30 per cent more goods traffic in Europe would only go by road by 2030, that would add an extra one million trucks, more congestion and additional harmful CO2 emissions. The change in traffic can only succeed if we get more goods on the rail."
Joachim Berends, Vice President of the VDV, said: "Over long distances, electric rail freight transport is the only economically and ecologically viable alternative to trucks. The market share of rail must therefore grow much more strongly if we even want to meet the obligations arising from the Paris Agreement on climate change in any way. The VDV is therefore supporting the Rail Freight Forward campaign."
During each stop that Noah's Trains makes on its journey, renowned street art artists will spray two containers with animal motifs.
Noah's Train started in mid-December at the end of the World Climate Change Conference in Katowice, Poland, and has so far travelled to Berlin via Vienna. The train will stop next in Paris on 5 February 2019 and Brussels on 20 February 2019.
Coming up in Global Railway Review Issue 1 2019, Geert Pauwels, CEO of European rail freight and logistics company Lineas, writes in more detail about the importance of shifting more freight to rail. To read his article once published in February 2019, subscribe for free today and become a member of Global Railway Review.