New report says rail electrification can be 33-50 per cent cheaper
RIA's Electrification Cost Challenge report contains examples from both the UK and internationally to show how the cost of electrification has already reduced.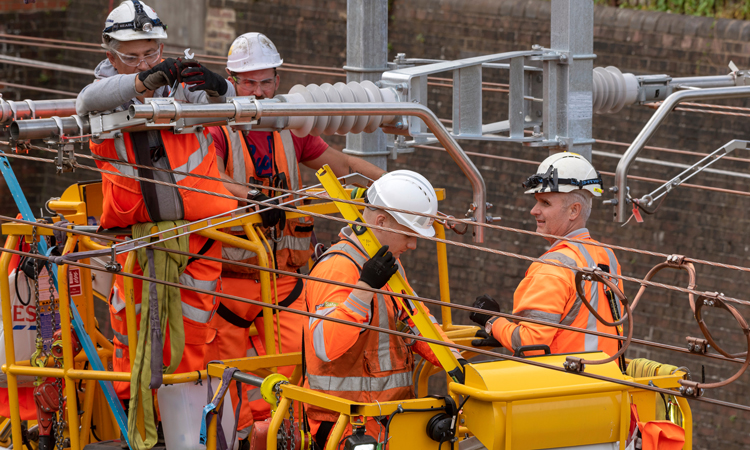 Working on the electrification of the railway line at Newbury
A new report, launched by the Railway Industry Association (RIA), has found that electrification can be delivered significantly cheaper in comparison to previous upgrade projects.
The Electrification Cost Challenge report shows that with a rolling programme of work the cost of electrification could be between a third and half of the cost.
The report calls for the government to collaborate with the rail industry and renew its commitment to electrification, following the cancellation of a number of schemes in July 2017.
David Clarke, Technical Director at the RIA, said: "The Railway Industry Association's Electrification Cost Challenge shows how rail electrification can be delivered at 33-50 per cent of the cost of some past projects if the government commits to a rolling programme of work.
"Electrification is clearly the optimal solution for intensively used railway lines, and should be seen as the priority choice in a hierarchy of options if the government is serious about decarbonising the rail network by 2040. A rolling programme of electrification would allow rail businesses to build up and retain expertise, further reducing the cost of future schemes.
"The lessons from previous projects, including the Great Western Electrification Programme, are clear but we should stop using these projects as a benchmark for the cost of future schemes. Instead, we urge the government to work closely with RIA and rail businesses – as requested by the Transport Select Committee and agreed to by the government in September 2018 – to revise its policy on electrification where it is the right long-term solution. Only by doing so will we be able to decarbonise the rail network by 2040 and deliver a cleaner and more cost-effective railway network."
Andrew Haines, Chief Executive of Network Rail, welcomed the report: "The most recently completed schemes demonstrate that we've made good progress in reducing the cost of electrification. This report takes the debate forward, brings insight to the challenges and solutions for successful delivery and illustrates that we can sustain a hard-earned level of industry capability through efficient investment in electrification."
Stephen Blakey, Commercial Projects Director at Network Rail, added: "Network Rail and RIA collaborated successfully on this report with both parties keen to ensure a balance, analysis and insight appropriate to such an important issue. Our industry needs to improve its ability to illustrate what rail investment should cost, will cost, did cost and why and this report helps do just that."