ÖBB Rail Cargo Group strengthens transport to and from the port of Rijeka
Rijeka is, along with Koper and Trieste, a central port in the Mediterranean corridor of the trans-European transport networks.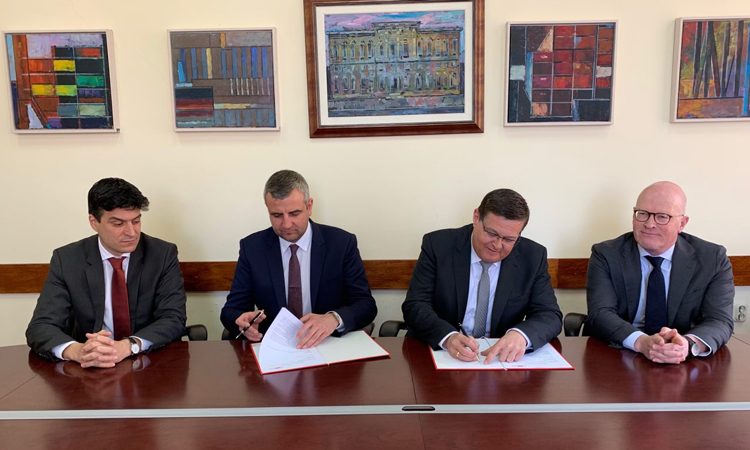 Signing the MoU. Credit: ÖBB_RCG_Ostler
A Memorandum of Understanding (MoU) between ÖBB Rail Cargo Group (RCG) and Croatian port operator Luka Rijeka has been signed, meaning the rail logistics services at the Adriatic port of Rijeka will be expanded.
Work is currently underway on the Rijeka Gateway project, costing €186.6 million which is financed by the World Bank.
The aim is to further increase capacity at the port and improve the performance and quality of services in the port in order to meet the growing demand for transport. The Croatian port is intended to be developed into a strong intermodal centre for the Central European market over the next three to four years.
ÖBB has been active on the Croatian market for more than 25 years – both with operator services and its own logistics branch, and for three years as a railway transport company (EVU). RCG currently operates regular conventional and intermodal connections to and from the port.
Almost one million tonnes of raw materials – such as ore and coal – are handled annually between Rijeka and Austria.
"The port of Rijeka is becoming increasingly important for the Central European economy. The cooperation with Rail Cargo Group, one of the largest European rail transport companies, is very important for us here. The cooperation with the Croatian branch is excellent," said Denis Vukorepa, Director of the Rijeka Port Authority.
In addition, high-frequency intermodal connections between the RCG Terminal BILK in Budapest and Rijeka are to be established; ensuring an efficient connection to the growing economic region of Central Europe.
"We are certain that the signed MoU shall strengthen our partnership and enable further development of both RCG and Luka Rijeka," said Bartłomiej Pastwa, Management Board member of Luka Rijeka.