Giruno Gotthard train granted to operate at 200km/h on the Swiss network
This clears the way for the new Gotthard train to travel with passengers on the Swiss rail network for the first time.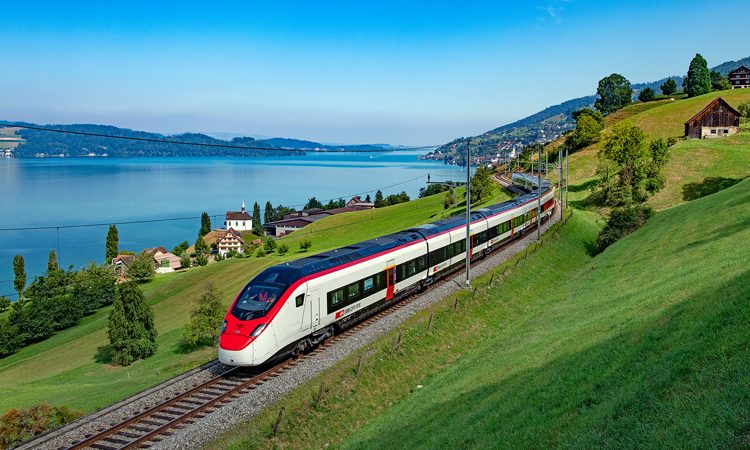 The Giruno on Lake Zug
The Swiss Federal Office of Transport (FOT) has issued an operating licence for Stadler's new SMILE high-speed train – named Giruno by SBB – to run at 200km/h in single traction on the Swiss network.
It is planned for the Giruno to be put into operation gradually from early summer 2019.
Since April 2017, several hundred test journeys have taken place in the four intended operating countries: Switzerland, Italy, Germany and Austria.
The Giruno has a total of 810 seats for passengers, covering a length of up to 400m in double traction.
The trains are equipped with a low-floor entrance for the different platform heights in Switzerland, Austria and Italy (55 cm) in relation to Germany (76 cm). This is an SBB premiere for a single-decker, multiple-unit train.
The Giruno exceeds the requirements of the Law on Equal Rights for Persons with Disabilities; it has approximately twice as many wheelchair-accessible places and toilets as legally stipulated. The trains also provide a high level of comfort, offering good reception for mobile devices, power outlets at all seats, large luggage racks, gender-separated toilets and a modern lighting concept with energy-saving LED lights.
At the end of 2020, the Ceneri Base Tunnel will complete the flat railway through the Alps. To meet the increase in demand expected as a result, SBB has ordered 29 multiple units with an option for up to 92 additional trains from Stadler, which can travel at speeds of up to 250km/h. The vehicles are 11-part electric multi-system units.