First Coradia Polyvalent for the Léman Express trans-border line is unveiled
Designed to ensure cross-border links thanks to ERTMS technology, these trains can run on several types of network voltages.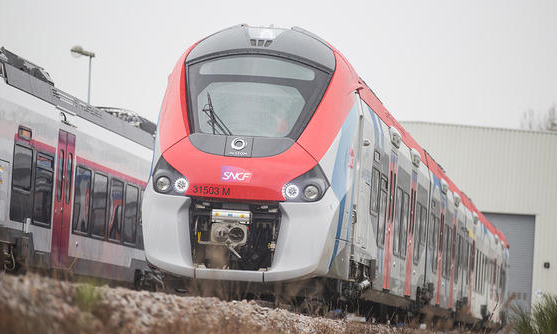 Alstom has presented the first finished Léman Express regional train for the trans-border CEVA line.
In total, 17 Régiolis trains belonging to Alstom's Coradia Polyvalent range have been ordered by SNCF, fully financed by the Auvergne-Rhône-Alpes region.
After nearly 24 months of tests in the Czech Republic, France and Switzerland, the first deliveries will begin in the summer of 2019, with entry into commercial service scheduled for mid-December 2019.
The Coradia Polyvalent Léman Express trains belong to Alstom's Coradia range of trains, 312 of which have been sold to nine French regions. The fleet has already travelled more than 50 million kilometres in commercial service.
The trains have been adapted to the requirements of the Franco-Swiss trans-border CEVA line. Each 72m-long train can transport up to 204 seated passengers at speeds of up to 140km/h, in accordance with Swiss certification.
To optimise passenger flow and reduce stopping time, the Coradia Polyvalent Léman Express trains are equipped with low floors; seven doors per side; bridge plates; and a large reception area on the platform. It is the first train to comply with the PRM-TSI standard, and the interior offers enhanced comfort thanks to seats equipped with individual reading lights and electrical sockets. Journey quality has also been improved with large windows and reduced noise levels.
"Alstom is particularly proud to present this Coradia Polyvalent train, the first trans-border train from its range. It has mobilised six of Alstom's 13 sites in France, including the site of Reichshoffen for the design and assembly, as well as Alstom's experts based in Auvergne-Rhône-Alpes at our Villeurbanne site, for all on-board intelligence as well as the signalling products," said Jean-Baptiste Eyméoud, Senior Vice President of Alstom France.