ÖBB Cityjet eco undergoing test drive in Upper Austria
ÖBB and Siemens Mobility develop environmentally-friendly train with electro-hybrid battery drive, which enables local emission-free operation.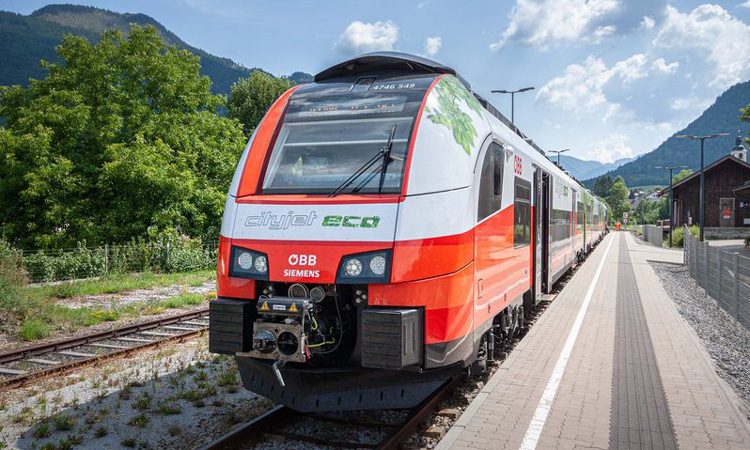 Test drives are underway to monitor the use on non-electrified railway lines and feasibility test on selected routes in Upper Austria.
The prototype train Cityjet eco, developed by ÖBB and Siemens, has been on selected routes in Upper Austria to examine potential areas of application. The electro-hybrid battery drive was put through its paces on its test drive on the Almtal- der Donauufer, the Mattigtalbahn and in the Rieder Kreuz. The infrastructure was also operationally and supply-technically evaluated on the test drives, in order to identify the routes, which are to be driven then also in the genuine passenger enterprise.
In a joint pilot project with Siemens, ÖBB is one of the first European railways to gain valuable insights and thus be able to further expand its range of services for passengers and the sustainability of their fleet.
For the pilot project, an existing ÖBB Cityjet Desiro ML was equipped with the new drive system. The design of the vehicle made it possible to accommodate additional roof loads and to integrate the battery system on the vehicle with little effort. As soon as the train leaves the electrified track, the batteries feed the train's power supply system. The behaviour of the batteries in railway operations is part of the test programme and is observed during the test drives. Another part of the evaluation trips is to identify potential locations for charging stations in order to provide medium term an alternative to diesel traction. The technology will be tested in passenger traffic in the coming months and further developed to series maturity.
Related topics
Related organisations
Related regions