RegioJet and WESTbahn to co-operate on Prague-Vienna line
RegioJet and WESTbahn – two leading Central European open-access train operators – have agreed to partner on the operations of RegioJet trains connecting Vienna, Brno and Prague 4 times a day in each direction.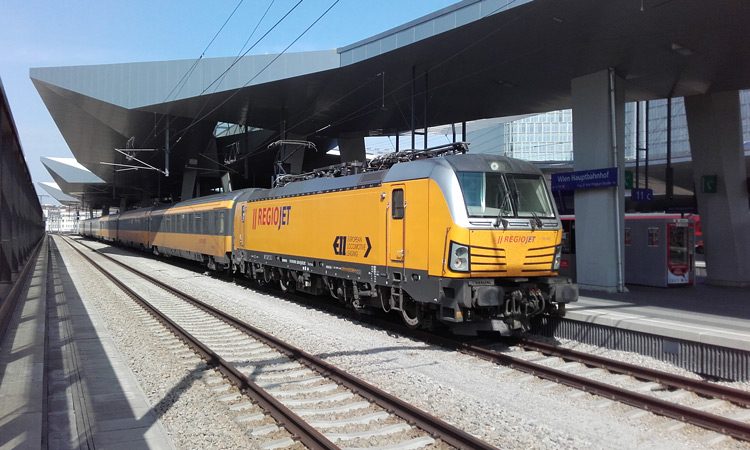 WESTbahn will be technically responsible for operations of the trains on the Austrian territory (the route between the Czech border station Břeclav and Vienna Main Station).
On the Austrian part of the route, RegioJet trains have so far been technically operated by GKB (Graz-Köflacher Bahn) but the new contract will terminate this when the present timetable ends on 14 December 2019. The co-operation with GKB has been highly professional and contributed to the general success of RegioJet trains on the Prague–Vienna route.
However, RegioJet has developed a strong relationship with WESTbahn which will take over the responsibility for operating the RegioJet trains on the Austrian territory, meaning that WESTbahn lok-drivers and zug-chefs will be responsible for all traffic obligations on the Austrian railway network. Business and customer service responsibilities will remain RegioJet´s competence for the whole journey from Prague to Vienna.
WESTbahn and RegioJet also cooperate in other areas. Both carriers share a joint ticket shop at Vienna Main Station and via its distribution channels RegioJet also sells tickets for WESTbahn trains as connecting train services to RegioJet trains and buses at Vienna Main station.
Great success for RegioJet trains between Vienna and Prague
RegioJet trains started connecting Vienna and Prague in December 2017. They run four times a day in each direction offering services in four classes. Different to other operators on the Prague–Vienna line, RegioJet operates its trains without any subsidies and with profit.
RegioJet trains popular with customers on the Prague–Vienna line with an average occupancy over 80 per cent. The company also reported profit in 2018 of approximately €4 million and transporting almost 10 million passengers on all train lines in Austria, the Czech Republic and Slovakia. In 2019, RegioJet expects further profit growth and a 10-15% grown in passenger numbers.
In June 2019, RegioJet successfully issued bonds for almost €36 million to be used to mainly fund the further development of its train fleet. Going forward, RegioJet has prepared investments to expand and modernise its fleet and plans to buy or modernise approximately 100 additional passenger train coaches.
On a fully non-subsidised commercial basis, RegioJet operates long-distance trains connecting Prague with Vienna, Bratislava, Košice, Brno, Ostrava and other cities. In Slovakia RegioJet also operates regional trains between Bratislava and Komárno under a PSO contract.
In December 2019, RegioJet will replace Czech Railways on one of the main long-distance interregional lines in the Czech Republic, connecting Brno, Ostrava and Bohumín – after winning the market selection called by the Czech Ministry of Transportation. RegioJet will also expand its regional operations in the Ústí nad Labem region taking over regional trains on three regional lines.