ScotRail's commuter train fleet equipped with fire protection solution
Hitachi Rail's fleet of AT200 electric commuter trains for Abellio ScotRail have been equipped with fire protection panels from Promat UK to help deliver a safe and comfortable on-board environment.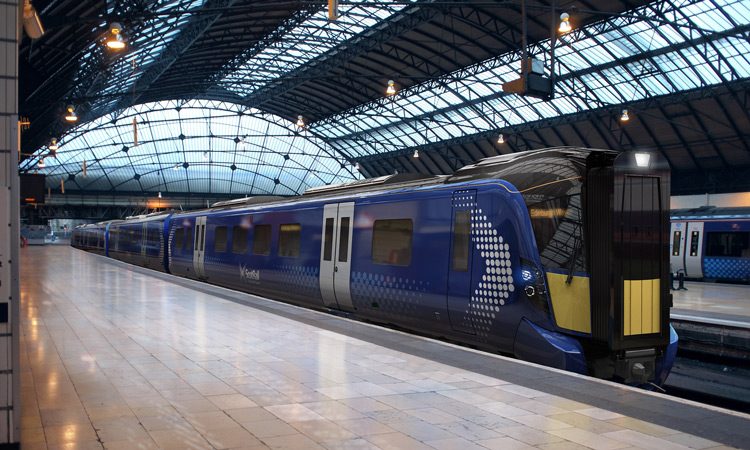 Credit: Hitachi Rail
Promat UK, a market leading manufacturer of fire, thermal and acoustic materials, supplied an essential fire protection solution to form part of a system fitted in the drivers' cabs of the three- and four-car unit trains, which were built at Hitachi Rail's state-of-the-art factory in County Durham. The trains recently reached their one year milestone since entry into service on the busy Edinburgh to Glasgow route.
Financed by Caledonian Rail Leasing, the AT200 commuter trains are a major part of Transport Scotland's Edinburgh Glasgow Improvement Programme (EGIP) which is a fundamental part of the ScotRail franchise for improving rail services across the central belt. In total, 46 three-car and 24 four-car EMU (Electric Multiple Unit) trains (known as Class 385's) will be operating along the Edinburgh-Glasgow and Stirling–Alloa–Dunblane lines, delivering greater environmental sustainability, faster trains, reduced wear on the rail infrastructure, and increased passenger comfort and capacity.
In line with Hitachi Rail's core interior design objectives, Promat UK worked closely with both Hitachi and their nominated contractor; where their expert technical guidance helped to shape the concept designs, with continuous support to arrive at the final solution. Promat UK's approved passive fire protection material used on board the AT200's is proven in applications around the world. It offers an extremely low thermal conductivity which is close to the lowest theoretically possible at high temperatures.
As well as facilitating a UK supply chain for their manufacture, the new trains play an important role in delivering extensive benefits for Scottish rail users, providing long-term economic sustainability and reducing Scotland's carbon footprint.
Linda Bearpark, Segment Manager for Transportation at Promat UK, says: "We were delighted to work with Hitachi Rail and their nominated contractor as part of this prestigious rail investment project which is helping to transform Britain's railway network. The AT200 trains are state-of the-art in respect of safety and comfort, thanks to innovative design ideas and the implementation of advanced materials, like our high performance insulation, for total peace of mind."
Related topics
Related organisations