PhosAgro and United Wagon Company (UWC) sign new supply contract
The contracts will see an additional 56 molten sulphur tank cars added to the United Wagon Company (UWC) fleet, complete with thermal insulation and heating system facilities.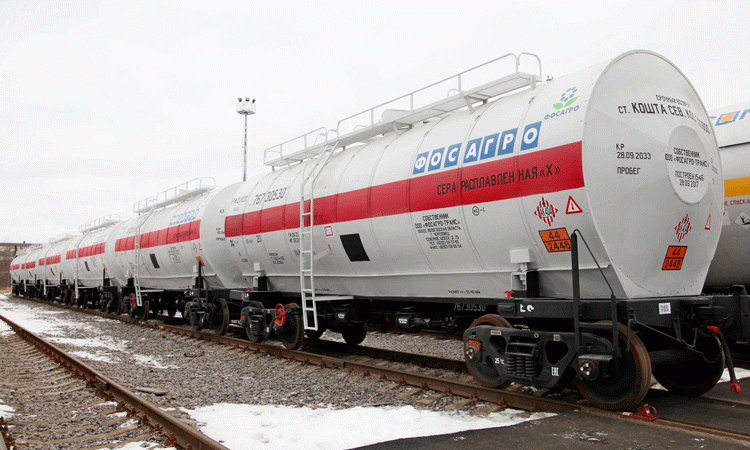 At the recent PRO//MOTION.EXPO in Moscow, PhosAgro Group, manufacturers of phosphorus-containing fertilisers, and research and production corporation United Wagon Company (UWC), Russia's largest manufacturer of freight rolling stock, signed a contract for the supply of 56 additional tank rolling stock for molten sulphur transportation.
The delivery will be completed before the end of 2019 and the total number of Tikhvin-made tank rolling stock for molten sulphur owned by the PhosAgro Group will increase to 168.
The acquired tank rolling stock manufactured by TikhvinChemMash, an entity of the UWC, have various advantages over their counterparts. The 15-6913 car on a 25-tf bogie ranks among UWC's most technically sophisticated products. Its tank has thermal insulation with a double stainless steel casing and an electric heating system. The thermal insulation allows to maintain cargoes in a liquid state at sub-zero temperatures, and the heating system facilitates efficient unloading of the tank.
The tank volume has increased, and now the trains measure 44m3 . Moreover, the trains now have an impressive payload capacity with 72 tonnes, which makes it possible to transport an additional nine tonnes of freight (with a cargo density of 1.8 t/m3) as compared to tank rolling stock most commonly used in the market.
The 18-9855 innovative bogie with an axle load of 25 tf allows to extend the service interval up to one million km, which is equivalent of a service every eight years, which reduces the overall cost of the car's lifecycle almost threefold.
Sergey Pronin, Deputy CEO for Sales and Marketing at PhosAgro, regarding the signed agreement with United Wagon Company, said: "Our company is constantly working to improve its efficiency, so by acquiring the additional new generation tank rolling stock to transport molten sulphur is an eco-friendly way will help us optimise the costs of transportation and preparation of sulphur for the production process."
Boris Myagkov, Deputy CEO for Commerce and Marketing at UWC, commented: "We are happy to see our partnership with the PhosAgro Group, one of our key customers, progressing. Aiming to implement their development strategy, they have acquired from us a total of two thousand and a half innovative cars so far."