Southeastern celebrates 10 years of high-speed train service
With over 100 million passenger journeys in a decade and 48 million miles travelled collectively, Southeastern celebrates 10 years of high-speed train service.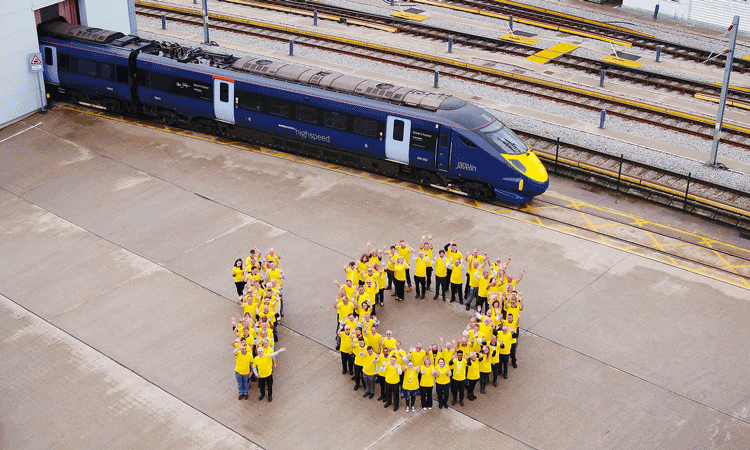 September 2019 sees Southeastern celebrate the 10th anniversary of the UK's first and only domestic high-speed train service. Opened to the public with a special 'preview' service on the 29 June 2009, Southeastern high-speed services have carried more than 100 million passengers over the past decade, connecting the capital to Kent.
To kick-start the birthday celebrations Southeastern invited colleagues from across its high-speed network, Hitachi Rail and HS1 Ltd, to take part in a commemorative photo to celebrate the work of employees who have worked on the high-speed line over the past decade.
As part of the celebrations, passengers will see both their local stations and high-speed 'Javelin' trains decorated with a newly-designed, 10th anniversary logo. Southeastern will also be unveiling a specially branded train that will join others in its 29-strong high-speed fleet, many of which are named after famous British athletes or which carry commemorative poppy or rainbow liveries.
To conclude the celebrations, Southeastern will be releasing a short film that highlights the impact the high-speed service has had on employment, tourism and the everyday lives of people living in Kent.
With an unrivalled average delay per train of less than five seconds on Southeastern's high-speed service, and overall passenger satisfaction at 92 per cent – one of the country's highest ratings –  the service has proven itself to be best-in-class.
David Statham, Managing Director at Southeastern, said: "We are incredibly proud to operate the nation's first and only domestic high-speed service. Southeastern high-speed has played a key role in major events such as the London 2012 Olympics and been a catalyst for growth in the South East, generating economic, cultural and social value.
"Since its launch 10 years ago, we have seen a marked increase in the number of businesses wanting to invest and grow in the locations such as Stratford and towns across Kent we connect. We hope to have the honour of operating the high-speed service for the next decade."
Southeastern's high-speed 'Javelin' trains, built by Hitachi Rail using Japanese bullet train technology, travel at speeds of up to 140mph, making them the UK's fastest domestic train. The service has dramatically cut journey times for passengers travelling into London from destinations across Kent, for example:
Journeys between London and Ebbsfleet have been cut by 33 minutes, from 51 minutes to 18 minutes
Ashford to London has seen a reduction of 43 minutes, from 81 minutes to 38 minutes
Those living in Canterbury have had their journeys into the capital cut from 1 hour 45 minutes to just 56 minutes.
The popularity of Southeastern's high-speed service has led to significant growth in passenger numbers, with a compound annual growth rate of over 11 per cent – more than double that on the rest of the Southeastern network.
Changes to journey times have transformed the opportunities available to people living in Kent. High-speed infrastructure has delivered an estimated £1 billion boost to the Kent visitor economy and supported around 72,000 jobs.
Kent's visitor economy has also benefited from the service, with tourists and leisure passengers now accounting up to 30 per cent of all journeys made.
During the London 2012 Olympics, Southeastern ran a special service to Stratford International, transporting around 25,000 people per hour. Since then the rail operator has named many of its trains after famous British athletes including Dame Kelly Holmes, Dina Asher Smith and Sir Steve Redgrave.
Dyan Crowther, CEO of HS1 Ltd, said: "Over the last decade we have seen exceptional growth in domestic services along the high-speed line. We believe high-speed rail is essential to the future growth of the UK, as it not only improves connectivity, but provides continued social, economic and environmental benefits to the communities it serves. We are proud to be flying the flag for high-speed rail in Britain and see HS1 as a model for the future."
Andrew Barr, Global CEO of Hitachi Rail, said: "Hitachi Rail brought Japanese bullet train technology to the UK, delivering the iconic Javelin trains for the HS1 route. At the same time, we invested in a brand new facility to maintain the trains in Ashford, creating 120 long-term skilled jobs in Kent. The 29 trains in the Javelin fleet are engineered to meet HS1's dual voltage and multiple signalling systems, and their superb performance and reliability is a credit to the Hitachi teams who designed and maintain them.
"Our expert teams continue to work round the clock to ensure that Southeastern and HS1 passengers are able to rely on a world-class high-speed train service, and have set the standard for Hitachi to go on to deliver further brand new intercity fleets, train maintenance operations as well as a manufacturing facility in the UK."