Virgin Trains to issue more body worn cameras for staff
Following a successful pilot scheme in 2018, 250 more body worn cameras will be rolled out across the Virgin Trains network and will be used by station staff and on-board teams.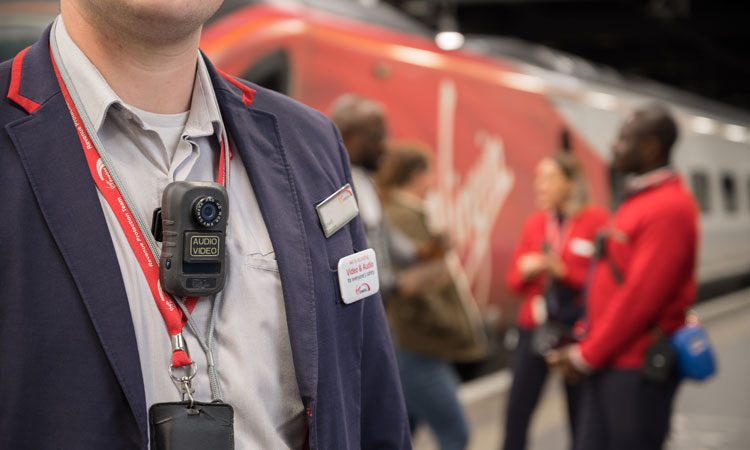 After becoming the first UK train operator to provide the cameras to cover all its frontline teams, the train operator will now equip a further 250 of its people with cameras, bringing the total to over 500.
These extras cameras are being issued following a pilot scheme that ran from February 2018 and September 2018 which saw Virgin Trains initially introduce 275 body worn cameras, reducing the number of assaults on Virgin Trains staff.
Further analysis has seen physical assaults on Virgin Trains' employees drop by 30 per cent in the period between April and September 2019 compared to the same period in 2018.
As a result of the success of the soft launch, body worn cameras were adopted across the network for revenue protection officers at ticket barriers and on-board train managers.
In another first for the rail industry, Virgin Trains granted the British Transport Police (BTP) direct access to footage from the cameras to carry out investigations where needed, thanks to a state-of-the-art cloud-based system. This allows footage to be viewed when the cameras are docked – speeding up investigations and possible prosecutions.
Dave Whitehouse, Safety Director at Virgin Trains, said: "The safety of our staff and customers is paramount, and body worn cameras play an important role in helping us to keep our network safe. The feedback is that our staff feel more confident and reassured wearing the equipment while working on the network. It's only natural that more of our people should have access to using it. Body worn cameras act as a deterrent, but if one of our people is subjected to an assault or there is another incident involving our customers, the technology is also there to quickly provide evidence to the British Transport Police."
Sergeant Lakhveer Singh of the BTP, said: "Virgin Trains' announcement of more body worn cameras for their staff has the full support of British Transport Police. We know from experience that body worn video is a fantastic piece of kit, that helps us in securing convictions against those who target staff with unnecessary violence or abuse."