New West Coast Partnership awarded to FirstGroup and Trenitalia
Taking over from Virgin, First Trenitalia will run services on the West Coast Main Line, with passengers set to benefit from more seats, extra services, simplified fares and station upgrades.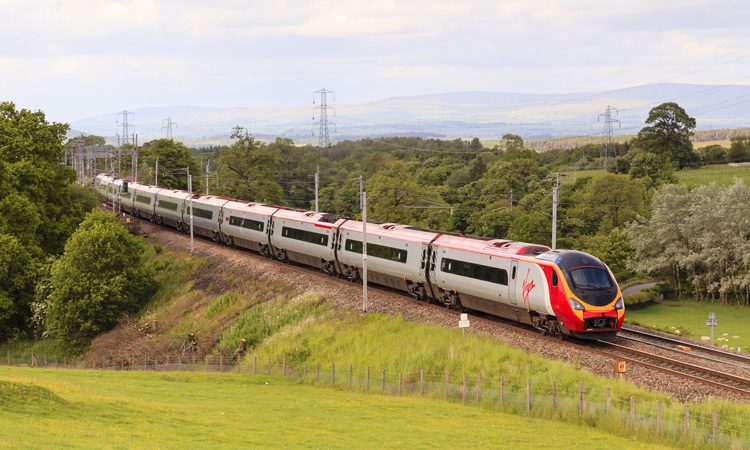 The new 70:30 Partnership will operate from 8 December 2019 and comprises two distinct phases. In the first phase to March 2026, First Trenitalia will operate existing InterCity West Coast services while providing a range of design, development and mobilisation services as Shadow Operator to the High Speed 2 (HS2) programme. First Trenitalia will then operate HS2 and the reshaped InterCity West Coast rail services together as an integrated operation in the second phase, from March 2026 until March 2031, under a management contract.
First Trenitalia is committed to delivering a range of passenger enhancements for InterCity West Coast services during the first phase of the Partnership, and have engaged extensively with customers and community groups to set out priorities based on their feedback in six key areas:
Exceptional customer experience
A fleet of 56 Pendolino trains will be completely refurbished, incorporating 25,000 brand new comfortable seats and additional luggage space for passengers. Better and more reliable free Wi-Fi and at-seat power will be provided for all customers across the fleet, with wireless charging and on-board entertainment. Catering will be upgraded with at-seat service for all.
Clearer fares
A range of easier to understand fares and fewer ticket types will be introduced, plus an easy and rapid refunds process when things go wrong. Simpler fares with mobile tickets and smartcards for all fare types will also be introduced.
More services
By 2022 there will be more than 260 extra services each week, increasing seat miles by more than 10 per cent compared with 2017/2018. New direct services will be provided to various destinations and offer more stops.
Better stations
There will be investments in stations to refresh waiting rooms, provide better customer facilities, more car park spaces, and greater accessibility for those who need it. Alongside this, work will take place along the route to deliver major upgrades, such as at Coventry and Birmingham International stations. The environmental impact of buildings will be reduced, improving energy efficiency and installing solar panels, alongside a commitment to achieving an 80 per cent reduction in non-recyclable waste from products sold or supplied on-board trains.
Investment in more efficient, lower emissions trains
More environmentally friendly, modern trains will be introduced, entirely replacing the diesel-only Voyager fleet and reducing CO2 emissions by 61 per cent. Also, 13 lower emission bi-mode trains will be introduced for services between North Wales and London. Furthermore, 10 new comfortable electric trains will operate; two trains per hour between Liverpool and London on weekdays and Saturdays.
People and communities
There will be investment in apprenticeships and more than 50,000 training days will take place including accessibility awareness training for frontline employees. A community investment fund, independently chaired Economic Development and Integrated Transport Forums will be set up, as well as regional Customer Panels.
High-speed rail 
It is thought the Partnership will pave the way for a new era in high-speed rail in the UK through HS2. Trenitalia brings direct experience of planning, launching and operating high-speed rail services. FirstGroup's rail division has deep commercial understanding of the UK rail market as well as expertise in launching new fleets and upgraded timetables and managing services during major infrastructure work. The Partnership will work together with the DfT, HS2 Limited, Network Rail and other stakeholders as the project moves from the construction phase to being part of the operational railway network in a way that complements current services.
The industry responds
Secretary of State for Transport, Grant Shapps, said: "This award is positive news for passengers, with more services, more direct connections and ambitious plans for a cleaner, greener railway, and also represents a decisive shift towards a new model for rail. It is a Partnership supported by Keith Williams, built with the flexibility to respond to his recommendations. Meeting Keith last week confirmed our shared determination to deliver a future that puts passengers – and punctual trains – at the heart of the railways. That is why I have asked Keith to produce a White Paper in the Autumn, with fearless recommendations that will deliver a railway system fit for the 21st century."
Keith Williams, Chair of the Rail Review, said: "The railway needs reform that prioritises the customers and communities it serves, with an absolute focus on delivering benefits for passengers. I have also been clear that my review must not stop or delay investment and innovation. This West Coast Partnership delivers for passengers. It is a step forward that is firmly in line with the review, introducing benefits for passengers today and capable of incorporating the reforms needed for the future."
FirstGroup Chief Executive, Matthew Gregory, said: "We are committed to delivering a range of improvements for InterCity West Coast passengers during the first phase of the partnership and our aim is to provide exceptional service as standard for our customers. In 2016, we and our partner Trenitalia committed to bidding for the West Coast Partnership as it is a unique opportunity to help shape and then run HS2. We look forward to playing our part in the success of the once-in-a-generation project to bring Britain's largest cities closer together."
FS Italiane Chief Executive, Gianfranco Battisti, said: "After only three years in the UK, we are strengthening our presence through the management of one of the country's most important railway operating companies, alongside our partners at FirstGroup. This award represents another significant step in our ambition to play a major part in the UK rail industry. With this partnership, our international business continues to go from strength to strength, particularly in a high-potential market such as the UK."
Virgin boss, Sir Richard Branson said in a statement: "I am devastated for the teams – members of our Virgin family – who have worked tirelessly to become the top-rated franchise by customers in the UK today. The recent period of uncertainty has been challenging for everyone at Virgin Trains, but I am so very proud of how hard they have all worked to maintain our high standards of customer experience during this time."
Paul Plummer, Chief Executive of the Rail Delivery Group, said: "Virgin-Stagecoach have brought significant benefits to passengers on the West Coast route including nearly tripling the number of trains between London and Manchester. We have no doubt that First Trenitalia will build on that record with plans for new trains and more services. Today marks an important milestone on the route to realising HS2, which will transform rail journeys across the country, boosting capacity and helping to rebalance the economy. We now know who will run the first trains on HS2 and lead on designing the whole customer experience from the timetable to the tickets that people will buy. This signals a positive direction of travel from the Williams review in harnessing the best of the private and public sectors working together. We look forward to wider reforms expected from this review so that we can deliver the railway passengers want and the country needs."
A statement from MTR about the franchise decision, said: "MTR is very disappointed that our joint venture bid for the West Coast Partnership franchise, including initial HS2 operations, has been unsuccessful. We felt that our bid was highly competitive, bringing together the best of MTR's proven track record for providing excellent passenger service with extensive global experience in the design and operation of high-speed rail services. We will seek clarification from the DfT about why we were unsuccessful."
Sir John Peace, Chair of Midlands Connect and Midlands Engine, said: "We're very much looking forward to working with First Trenitalia as they take on the West Coast Partnership from December. This new franchise is a fresh opportunity to guarantee our region benefits from the quality railway it needs and deserves. There's a lot of work to do to prepare for the arrival of high-speed services in Birmingham in 2026 and make sure the region is ready to take advantage of the capacity HS2 will release on the existing West Coast Mainline for both passengers and freight. It's encouraging to see First Trenitalia making a clear commitment to more services, better stations, clearer fairs, and greener trains. These things are important to Midlands Connect, they're important to our partnership, and above all they're important to the people who travel to, from and through the Midlands. We're also eagerly awaiting the recommendations of the Williams Rail Review, so this comes at the perfect time for us all to ensure the Midlands' rail network, and the services which operate on it, are the best they can be for our region's people, businesses and economy. Midlands Connect will be bringing together our region-wide partnership, including West Midlands Rail Executive, the Constellation Partnership and Network Rail to speak to First Trenitalia and the Department for Transport with one voice concerning our expectations of the speed, frequency and stopping patterns of trains serving our major economic centres. We're not just working in the interests of Birmingham, but Coventry, Wolverhampton, Shrewsbury, Telford, Stafford, Stoke-on-Trent and the rest of the Trent Valley too."
David Sidebottom, Director of independent watchdog Transport Focus, said: "Passengers on the West Coast network told Transport Focus that their key priorities for improvement are improving value for money, getting a seat on the train and enjoying a more frequent, reliable and punctual services. Passengers also want to see a fare structure that is transparent and a simple, seamless ticketing process. Free Wi-Fi, better luggage storage and increased staff visibility are also key priorities for passengers who will use the West Coast Partnership. It is good to see efforts to meet many of these key passenger aspirations at the heart of the new franchise with First Trenitalia. First Trenitalia has a real opportunity to shape the future and integrate the smooth running of HS2 with the West Coast Partnership. This is an exciting moment for passengers, with the promise of a new high-speed line that has state-of-the-art trains, more seats and faster journey times. However, the new operator must communicate effectively with passengers about the engineering work needed to build HS2  not least at Euston where works are already underway to deliver long term improvements that we know passengers want. Transport Focus looks forward to working closely with First Trenitalia to ensure the needs of passengers feature strongly at the heart of the new operation and any major decisions about HS2."