New trains and extra services promised for Britain in annual rail investment report
A report has revealed that Britain's rail industry is committed to delivering over 1,000 extra services a week for passengers and the introduction of 1,000 new carriages during 2020.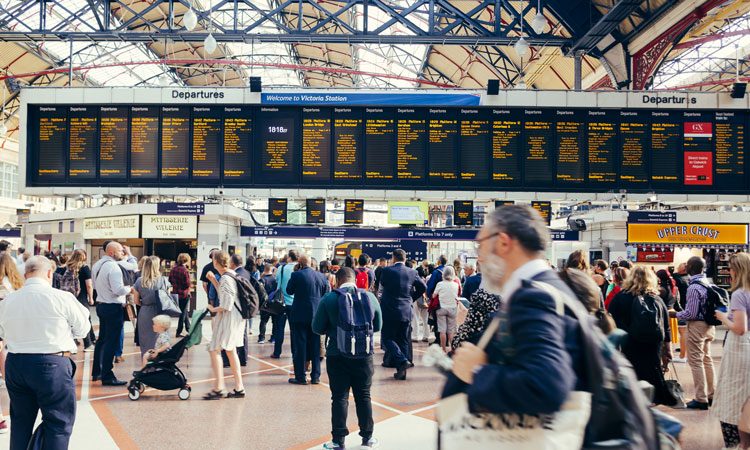 In total, an estimated £20 billion will be invested in running and upgrading Britain's railway in 2020 and the report details the following improvements due to be delivered:  
Scotland: the £120 million major redevelopment of Glasgow Queen Street Station will be completed and the redevelopment of Aberdeen Station will begin
North of England: new and upgraded trains will be delivered for passengers travelling with TransPennine Express, Merseyrail, LNER, Northern, Hull Trains and Grand Central
Wales: £40 million train refurbishment programme will continue with 186 more services running on Sundays 
Midlands: a new half-hourly service between St Pancras International and Corby will be introduced, 180 new trains with space for 50,000 additional passengers to and from Birmingham will start to run, and Wolverhampton Interchange will also open as part of a £150 million transport hub 
East Anglia: £1.4 billion investment in 169 new trains on Greater Anglia and a £27 million route upgrade allowing longer trains to run between Cambridge and King´s Lynn. Track upgrades will enable 10 extra freight trains per day to run to Felixstowe, removing up to 760 lorries from the road
South West: quicker, more regular services following planned timetable change and £80 million upgrade of the sea wall in Dawlish
London and South of England: 90 new trains on South Western Railway and construction will start on the £150 million upgrade of Gatwick Airport station. 
The investment report builds on the industry's long-term plan to improve passenger and freight services to benefit customers, communities and the economy. Significant progress has been made since this plan was published two years ago with more than 2,500 brand-new carriages already introduced and over 4,000 extra services running each week, improving journeys and better connecting communities across the country.
Further commitments made by operators since then mean that by the mid-2020s, over 11,300 extra trains a week will have been added to timetables, an overall increase of almost 10 per cent. This is alongside 8,000 new train carriages over the same period, an increase of 1,000 on previous plans and equivalent to replacing over half of the nation's trains new for old. Passengers are also benefitting from hundreds of upgraded train carriages which are being refurbished like new.
For every £1 spent on tickets, 98p goes back into running and improving the railway, meaning money from fares is crucial to underpinning these improvements. Passenger numbers have doubled in the last 20 years, meaning money from fares now virtually covers the day-to-day cost of running the railway compared to a £2 billion operating deficit in the late-1990s.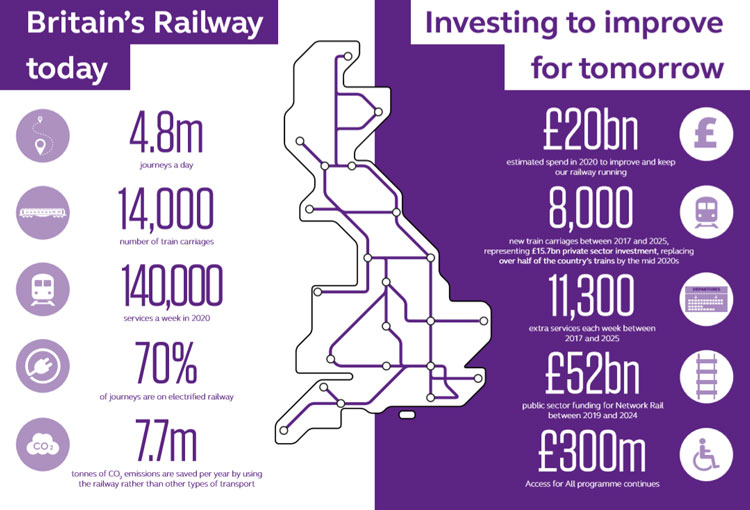 Paul Plummer, Chief Executive of the Rail Delivery Group, said: "People want a better railway and we are investing in a long-term plan to make that happen. Next year, our passengers and the communities that rely on rail can expect more trains to more places and new carriages with more seats and better Wi-Fi. Those improvements will drive economic growth increase productivity and help set Britain up for success in the long term."
The railway is vital to Britain's economic success with 1.4 million people taking trains into cities every weekday and rail freight delivering £30 billion worth of goods to consumers across the country every year. As Britain leaves the European Union, improving rail connections will be vital to ensure that the country's economy thrives in the decades ahead.
Anthony Smith, Chief Executive of the independent watchdog, Transport Focus, said: "For passengers who have put up with much inconvenience in the expectation of a better, more reliable rail service, the prospect of more seats and new trains will clearly be welcome. Passengers understand that change can take time and mean some disruption and they will need to be kept well informed and given clear timescales for improvements. Passengers tell us their top priorities for improvement are more trains arriving on time, more chance of getting a seat or standing in comfort and better value for money services."
With 4.8 million journeys being made every day and with three trains departing a station every second, increasing the number of trains and services on an already congested network is challenging. Rail companies are working together to ensure that the new services are introduced smoothly and that the benefits of this enormous investment are felt across the country.
The new investment plan comes as the ongoing independently-led Williams Review into the railway prepares its final report and recommendations. In a submission to this review the rail industry offered radical proposals to reorganise the railway, increase accountability and make the fares system easier.