Refurbished Class 442 trains reintroduced into operation by SWR
The four trains were refurbished as part of South Western Railway's wider efforts to improve the passenger experience on its network.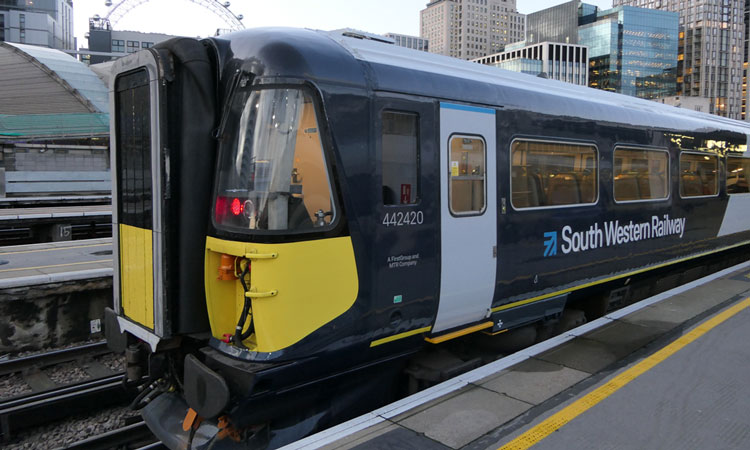 Credit: South Western Railway
South Western Railway (SWR) has reintroduced four of its 10-car Class 442 trains back into passenger service on its network following numerous renovation and refurbishment works. The trains have been in operation since the beginning of 2020, running on the London to Portsmouth and London to Poole routes.
Engineering Director for South Western Railway, Neil Drury, said: "We're really pleased that these refurbished trains are now in passenger service. We've already had positive feedback about the extra space provided with the 2+2 seating configuration and other benefits such as Wi-Fi, LED lighting and real-time passenger info systems. Passengers will also notice the high quality of the refurbished interiors, including Axminster carpets and reupholstered seats. We're proud of the fact the works have been undertaken at Eastleigh and Bournemouth depots. This has meant investment in local facilities across the South Western network, helping to boost the economy and secures jobs for people living in the communities we serve. We will look to introduce all of the Class 442s in the fleet back in to service as soon as possible."
Passengers can now benefit from:
More spacious '2+2 seating'
Refurbished interiors
At-seat power sockets
Real-time passenger information displays
Wi-Fi provided throughout the trains
Environmentally friendly LED lighting
Universally accessible toilets
And seating facilities for disabled passengers.
Additional features for First Class passengers includes new leather seating and new tables. 
The refurbishment programme is part of South Western Railway's £1.2 billion investment plan to transform the passenger experience, which also includes the introduction of new and as-new train fleets to increase capacity; longer, more frequent trains; quicker journey times and better connectivity; station improvements and a better ticket buying experience.