Contract awarded for Rail Baltica high-speed 'Latvia North' project
The €13,523,414 contract for the 'Latvia North' project of the Rail Baltica high-speed rail line has been awarded to Ardanuy Ingeniería and INECO.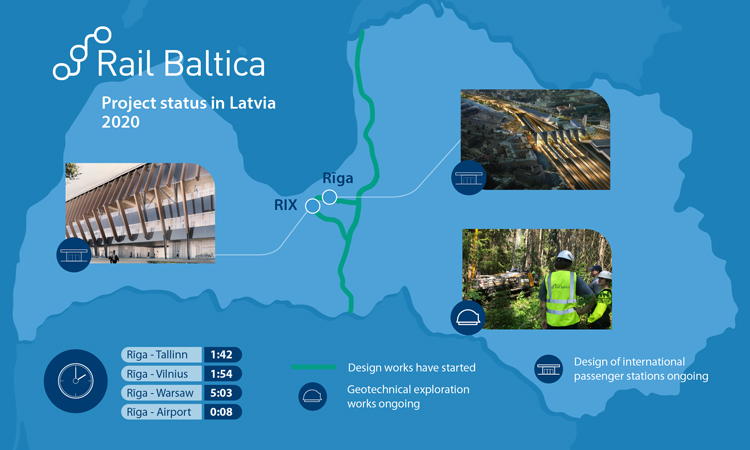 Credit: Rail Baltica RB Rail AS
The joint venture of Rail Baltica, RB Rail AS, has announced that it has awarded Ardanuy Ingeniería and INECO with the Supervision and Design Services contract to launch the 'Latvia North' project, concerning the rail section that will connect the city of Vangaži, located to the Northeast of Riga, to the border between Latvia and Estonia.
Designed in European gauge, the project entails one of the most important sections along the future high-speed Rail Baltica line, with the contract valued at €13,523,414. The section is the most extensive in Latvia, stretching over 94 km. The scope of the project also includes the construction of different complex infrastructures – in particular, 13 bridges, 36 road viaducts and three railway viaducts.
The Minister of Transport of the Republic of Latvia, Tālis Linkaits, expressed his satisfaction with the progress of the important work being undertaken, which will continue to be carried out despite the current global situation since "it will help to boost economic development as part of the recovery efforts from COVID-19". Tālis also explained how now, more than ever, it is important to speed up the design process in order to begin construction in Latvia as soon as possible in autumn 2020. 
This new assignment for Ardanuy Ingeniería and INECO highlights the degree to which Rail Baltica's RB Rail AS confides in the expertise and know-how of both companies in the railway sector. In February 2019, the companies were selected to conduct the line's Energy Subsystem Study, as well as its Maintenance Base Study.
The goal of the Rail Baltica project is to connect the three Baltic Republics (Estonia, Latvia and Lithuania) through an 870km high-speed railway network. In the future, the line is expected to be linked to the rest of Europe, through Poland and Finland. A total of €5.8 billion has been invested to commission the line.