Indian Railways: A sustainable development for the future
Rajesh Kumar Sinha, rail industry writer and serving Librarian with Indian Railways (IR), shares the operators' long-term vision, and details the projects and successes that are driving forward the modernisation of its railway network.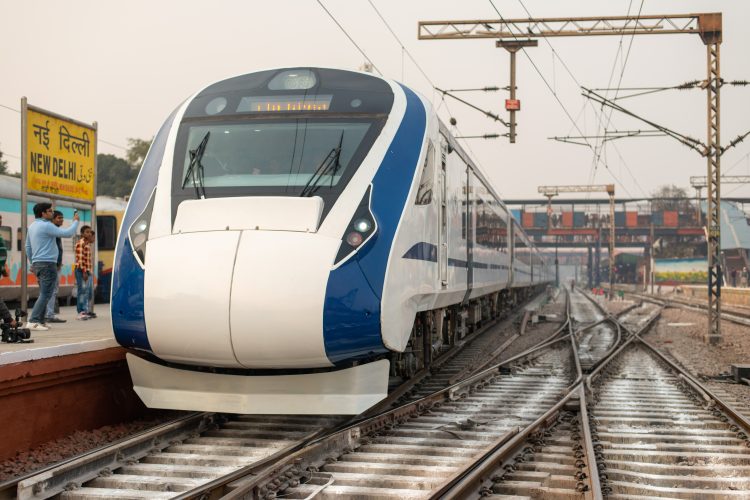 Indian Railways (IR) is one of the largest integrated railway networks in the world. With an enormous route length of more than 126,511km, operating many thousands of regular trains over 7,325 stations, with an employee strength of nearly 1.1 million, the operations of IR certainly are one of the bigger, more varied and highly complex of any across the world. Owning 76,608 passenger coaches, 2,93,077 freight wagons and more than 12,000 locomotives, as the eighth largest employer in the world, IR plays a very critical and significant role in the economic life and operations of India. 
No wonder IR requires itself to remain vigilant to the evolving situation and requirements of its society, economy and nation. The coronavirus pandemic has affected our operations and activities too. However, we have come up with a long-term National Rail Plan (NRP) with the objective of developing infrastructure, and capacity, with a special emphasis on enhancing our share of freight logistics in the overall share of IR revenues.
A long-term vision for Indian rail
Unlike previous IR plans, the new vision plan has envisaged preparing India's national transport for the coming decades of 2041 and 2051. Plans are afoot to study the physical, material and human resource limitations of the organisation, assessment of contemporary and future modal share of IR, future requirements of fixed and rolling stocks, funding and financing strategies.
One significant feature of the plan relates to preparing for capacity requirement, both in terms of passengers and freight, ahead of demand by targeting the peak and not merely the averages, as has been the case previously. Secondly, based on financing strategies, existing and future railways projects are to be identified based on options, evaluation and prioritisation. 
Achievements
Between 2008-2014, eight studies were undertaken by IR including the Total Transport Study (RITES) and the India Transport Report, but, importantly, no comprehensive studies or work has been carried out, particularly in the last five years. Some of IR's major, more recent, achievements can be summarised as follows:
Dedicated Freight Corridors (DFCs)
The story of Dedicated Freight Corridors (DFCs) has been a spectacular one. Two of them, the Eastern Dedicated Freight Corridor (EDFC) and the Western Dedicated Freight Corridor (WDFC), are already functional, while four more DFCs have been planned where freight trains will run at an average of 90-100km/hr, as against the existing 25-30km/hr. 
Connectivity
IR has connected almost the whole of India through the railways. States like Manipur, Tripura, Arunachal Pradesh, Jammu and Kashmir have all have been connected for the first time in the country's history, while more parts are being added to the IR network. Beyond the country's frontiers, IR is also working on initiating and enhancing connectivity with Bhutan, Bangladesh, Nepal, Myanmar and Pakistan.
Carbon neutral
Sustainable development is being achieved through the greater use of solar energy, biogas, bio-toilets in passenger trains, LED lights, rainwater harvesting, and reforestation. Substantial electrification is also being implemented to ensure IR becomes a carbon neutral transporter by 2030.
Stations
Passenger services and amenities have been improved substantially. Stations are much cleaner and, as part of a station redevelopment plan worth $13 billion, 400 stations have been taken up in a Public-Private Partnership (PPP) model.
Safety
To address safety aspects, long considered to be one of IR's vulnerabilities, an Automated Fire Alarm System, an Automated Fog Assistance System, CCTV cameras for stations and trains, Wi-Fi enabled stations, complete elimination of unmanned railway crossings and faster modernisation and digitisation on doubling of railway tracks, as well as signalling systems, as part of the $13 billion National Rail Safety Fund, are being developed and/or implemented.
High-speed trains
High-speed trains and semi-high-speed trains that may have seemed impossible in Indian conditions, are already functioning with some about to start. Gatiman Express, Vande Bharat Express, Tejas Express, and vista dome coaches have all been introduced within a short time, while the metro rail network is already running in 11 Indian cities. The bullet train on Ahmedabad-Mumbai is also being advanced, while five more high-speed bullet train routes are being finalised.
Tourism
A very significant, though less talked about aspect of IR, is its huge tourism potential. It has recently introduced specialised tourist trains such as the Punj Takht, Mahapariniravan Express, Ayodhya Circuit which are certain to add value and revenue to the ambitious expansion plans of the Indian railways.
A great future ahead
With plans to invest a massive $320 billion in enhancing connectivity and profitability, IR is currently standing at the threshold of a great future. With more functional autonomy, professional management and effective utilisation of scarce resources and strategies, what was widely perceived as a 'white elephant' in Indian bureaucratic circles until recently could well emerge as one of the major public corporates donning the global economic landscape in the not-so-distant future.

Rajesh Kumar Sinha is a serving Librarian with Indian Railways (IR). He has worked in print and web media for eight years and has written for several outlets including Foreign Policy, EurAsian Times and Indian Defence News.