Q&A with Alexander Burrows of BCRRE – Positivity in rail
At InnoTrans 2022, Alexander Burrows, Director of Enterprise & Innovation at the Birmingham Centre for Railway Research and Education (BCRRE), spoke to Elliot Robinson, Global Railway Review's Editorial Assistant, about the positive trends he sees in the rail industry right now and what the BCRRE are doing to help the rail industry face challenges.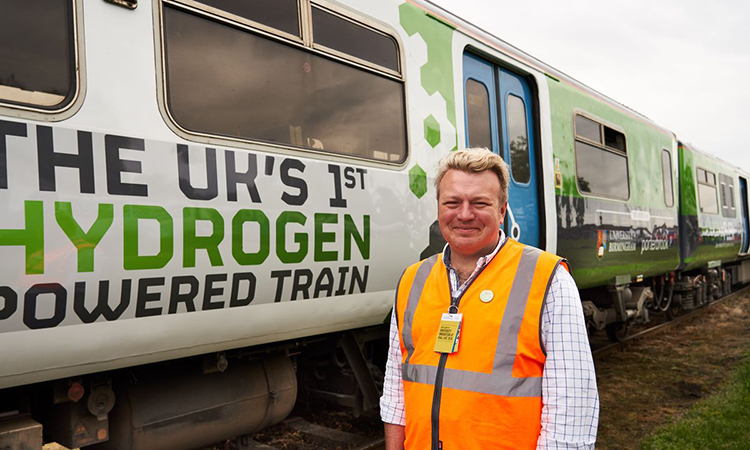 Please provide a general overview of the BCRRE and why you are here at InnoTrans 2022?
The Birmingham Centre for Rail Research and Education (BCRRE) is part of the School of Engineering at the University of Birmingham. We are the largest specialist railway research, education, and innovation Centre in Europe with approximately 180 researchers, professional, academic and services staff at the institution. We are a leader in railway research and development (R&D) and innovation, commercialisation, and also in postgraduate education.
The reason we are here at InnoTrans is because, quite simply, this is the place to be. Not only will this event raise our profile, but it offers us a fantastic opportunity. For example, we signed an agreement with Saudi Arabia Railways to provide them with educational programmes and support, and that's exactly what we are here for. There are lots of companies and organisations here who want skills development, or they want general R&D support. There aren't many actors like us that have those capabilities, so it is a fantastic opportunity.
With much of the rail industry attending InnoTrans 2022, what positives do you see in the industry right now?
A lot of people are looking to actively work collaboratively, rather than just saying it.
It feels like, as an industry, we've got our mojo back. COVID-19 had a big impact on the industry, but there is much excitement that big investments are coming into the railway globally, and the industry looks like it is ramping up to face challenges. A lot of people are looking to actively work collaboratively, rather than just saying it. There are also lots of new products available, so clearly a lot of R&D innovation taking place. From our perspective, that is fantastic to see and I think we can take that positively.
Another positive is the work we are seeing around electrification of infrastructure. I think back to 2016, when Alstom debuted their hybrid train for the first time at InnoTrans and it was such a novelty to see such hugely exciting technology. Six years later, everybody is now talking about hydrogen and how we can reduce emissions by decarbonising transit.
The industry is also a great place to work. It is good seeing so many people, so many old friends we haven't seen since the last edition of InnoTrans, talk about relationships with people I've known for a decade, based in France, Italy, Germany, who you don't really see apart from at events like this.
What do you consider to be the biggest challenges the railway sector will be facing?
The railway industry has got to stop talking about digitalisation and decarbonisation as if they are going to happen and actually put some thought into what they mean. What are the objectives? Why digitalise? The reason why railways need to digitalise are to be more efficient, to find more effective ways of running railway operations – and that is a very real issue in the UK in particular. We have got to take cost out of the railway equation. New digital technologies can help make it more reliable, safer and more secure. Hopefully we will start to attract passengers back with an increased array of services they will actually want to use.
I think the rail industry needs to start thinking more deeply about what benefits could come with that, and say, right, we are digitalising, and this is why we are doing it. I hope we can look forward to that in the near future.
Unlike decarbonisation, everyone has just been talking about hydrogen, us at the BCRRE included. We have built a hydrogen train, but are we seeing order books full of hydrogen trains coming into production?
The railway needs to be persuasive in getting governments and infrastructure managers and operators to go from the rhetoric of, oh this is all fantastic, to right, here are the orders, here is the investment, this is the justification that leads to our theme around education, around skills, around attracting people into the railway industry, and here is the investment in technological innovation to see these new products be developed.
Railway has got to take some responsibility, to stop doing all the talking and start turning that into real action.
How is the BCRRE helping the industry to face these challenges?
We can enable collaboration to happen. We are an honest broker, we can play a role between multiple organisations and provide a neutral, safe space where people can connect…
BCCRE is undertaking projects such as working with industry to build hydrogen trains, to develop efficient solutions for tasks such as monitoring track conditions remotely and to monitor trains. We are working to understand how we can use robotic technologies to improve our maintenance, for example to improve our operations, to make conditions better for workers out on the tracks and so on. We will, of course, help the skilled workforce in these areas. We have taken over the national policies advanced track infrastructure, with a view to ensuring the whole pathway of skilled development is put into the rail industry, to deliver a confident, reliable, successful railway.
We can enable collaboration to happen. We are an honest broker, we can play a role between multiple organisations and provide a neutral, safe space where people can connect, they can identify how they could collaborate and find the solution. I think there is a lot to offer, and it feels like the experience of the last few days has borne that out. We have had lots of good conversations and signed a number of agreements to collaborate; it has been very positive.
What have you learned from your experience at InnoTrans 2022?
I feel like we can now take a big step forward as a sector; there are important conversations happening around digitisation and decarbonisation. The impact of the pandemic on rail has been massive, particularly for the UK rail industry which is not recovering as rapidly in terms of passengers when compared to other railways around the world. Yet, I've seen a lot of UK companies forming strong partnerships across the global rail industry during InnoTrans 2022, and I take from that a great positive, that the UK still are a major player in the global rail industry.

Alexander Burrows is the Director of Innovation and Enterprise and leads the BCRRE Commercial and Professional Services team that sits alongside the BCRRE academic group. This includes supporting the leaderships of the UK Rail Research and Innovation Network (UKRRIN) and managing the UKRRIN Centre of Excellence in Digital Systems, hosted by BCRRE. Alex is an expert in transport policy, strategy and innovation with significant experience gained from his previous experience as Marketing & Strategy Director at Alstom and prior to that at Atkins, the Transport Systems Catapult and the West Midlands Transport Authority.
The Birmingham Centre for Railway Research and Education at the University of Birmingham a global top 100 university has been carrying out applied contextual railway research around the world for over 50 years. It is the largest university-based Railway Research organisation in Europe; it has over 180 researchers and staff conducting research in many of the different sub-sectors of the railway system with a strong international reach and reputation. We recently showed HydroFLEX, our in-service, tri-mode hydrogen, electric and battery passenger train at COP26 in November 2021. Along with our research we also offer extensive programmes of study both here at the University of Birmingham where we deliver our world-class MSc in Railway Systems Engineering and Integration and have done so for the past 25 years and we have our National College for Advanced Transportation & Infrastructure. 
Related topics
Coronavirus/COVID-19, Digitalisation, Electric/Hybrid Rolling Stock, Funding & Finance, Hydrogen Trains, InnoTrans, InnoTrans 2022, Operational Performance, Regulation & Legislation, Rolling Stock Orders/Developments, Sustainability/Decarbonisation, Technology & Software
Related regions