Upgrading systems to provide greater levels of capacity and resilience
Billy Gilpin, Director, Railway Undertaking at Irish Rail, details the work Ireland's operator is doing to develop and implement strategies that deliver higher performance, including operational delivery, service planning, fleet maintenance and support, and how best to deal with complex operational issues.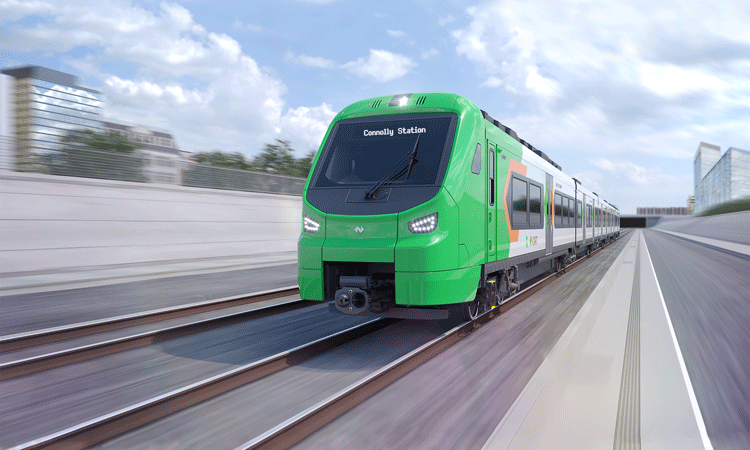 Figure 1: The Trimble Nexala R2M System
Iarnrod Eireann – Irish Rail (Irish Rail) is the state-owned railway operator of the Republic of Ireland, operating a network of 2,400km with 147 stations. Irish Rail runs all passenger and freight services in the Republic of Ireland and, in addition, operates a cross-border intercity service between Dublin and Belfast in conjunction with Translink Northern Ireland Railways. The company operates a mixed fleet of more than 650 multiple units and carriages, 40 locomotives and 250 freight wagons of varying types.
In recent years, the company has grown considerably to achieve 50 million passenger journeys 2019 and has plans for considerable growth beyond this point to 75 million passenger journeys in the very near future. It's still a vertically integrated railway with the railway operations separated from the infrastructure operator but still very closely linked under the one banner. For a relatively small railway, this is very advantageous as we seek to modernise and grow the railway in Ireland.
The rail network is predominantly diesel operations and only 50km of track are electrified with 1,500 Volt DC overhead line. The electric network covers the Dublin area railway known as DART and a lot of the expansion plans in the next decade relates to expansion of the DART network and the Cork commuter network in and around Cork city which is the second largest city in the Republic of Ireland. Intercity operations operate on radial routes to and from Dublin city to regional towns and cities.
Much of the Irish railway network is still single track controlled by obsolete or limited train protection systems. The company has invested heavily in recent years as part of the government funded expansion plans to upgrade systems to provide greater levels of capacity and resilience and of course safety.
Train control and signalling
Currently all trains are controlled via several signalling control centres, with the principal centre being in Dublin and satellite centres at locations around the country. Whilst there are considerable investments occurring in rolling stock and support systems, a major focus has been the upgrading of the national train protection system and the construction of a single Network Train Control Centre which has been completed outside Dublin near Heuston station. Building works for this are complete and fit out is now in progress of the train management and train control system. It will be 2025 before this is fully operational. In parallel, Irish Rail has commenced a total network upgrade to fit the European Train Control System (ETCS) Level 1. This will replace existing Alstom legacy train protection systems such as ATP. All new fleets will be fitted with ETCS Level 1 at delivery, and this will also be retrofitted to all of the existing operational fleet over the next five to seven years. These critical infrastructure enhancements will enable greater capacity on the network with higher levels of safety with a standardised train protection system nationwide.
Network and service expansion
The Irish railway network is once again very busy with commuters and intercity customers, and it is recognised that in many areas the network is close to capacity with the current system of operations. In conjunction with the National Transport Authority (NTA), who are the governing body and funding agency for Irish Rail, medium- and longer‑term strategies have been published and resourced to enable the modernisation of the system. Chief among these is the DART+ programme which is a more than €2 billion expansion of the Dublin electric network North, South, South West and West of Dublin to include electrification, track and station upgrades, new fleet, capacity upgrades and a new maintenance depot. This programme will take nearly 10 years to be delivered in full and it will more than double the passenger capacity and will replace diesel trains with electric trains.
New fleet
Irish Rail plans to upgrade all services across all routes in time. Additional capacity on lines, additional trains, longer trains, higher speeds and higher service frequency are all planned on a modernised network with state-of-the-art safety and control systems. As an interim capacity measure, Irish Rail has taken delivery of new carriages to increase the length of existing diesel intercity multiple unit trains. it is quite a challenge to merge these new carriages into an asset that is 12 to 15 years old and to ensure compatibility of systems. The carriages look and feel the same as the existing fleet from a customer perspective but give us a 20% uplift in fleet capacity. These will all begin to enter service later in 2023.
Decarbonisation
Decarbonisation features heavily in our strategy. As a mainly diesel network, future enhancements must include decarbonised solutions. While electrification is the desired network, the DART +network will initially commence with battery train (BEMU) operation pending the electrification of those routes and this enables Irish Rail to electrify services quicker than would have been possible if electrification was implemented. Thirty‑seven new five-car trains have been ordered for the DART+ network from a 10-year framework contract in place with Alstom transport which allows up to 750 vehicles to be purchased – either electric or battery electric. Most of these new trains ordered so far are battery BEMU types. Future fleet orders such as the proposed new intercity trains for Dublin to Belfast services will be specified with the objective of permitting the transition to zero carbon operation in the life of the asset.
Fleet management
The engineering teams are in full control of fleet planning and fleet deployment. Responding to the operator and operations planning, trains are allocated to the timetable requirements. Fleet controllers monitor train planning and disposition and mileage from maintenance and fuel perspective. The fleet controllers schedule maintenance with seven major maintenance depots located around the country. Each fleet type has home depots who undertake all running and heavy maintenance against a planned schedule. To optimise fleet availability, most fleets operate on a mileage-based maintenance and overhaul system. Maintenance exams and inspections have been balanced to optimise downtime and innovations, such as not undertaking planned inspections on Fridays have increased availability on this peak day for additional services. The main intercity diesel fleet is now running at over 90% availability.
Considerable improvements have been implemented with the maintenance systems for rolling stock fleet to improve safety and to optimise availability and reliability of the fleets. The aim always being to maximise trains in service with high reliability for the operator.
Remote diagnostics
One of the recent systems deployed is a train remote diagnostics platform that enables rule‑based management of onboard systems, providing early alerts and warnings of problems on fleets with quicker diagnosis and recovery for when things do go wrong. This system is called Nexala R2M, it was supplied by Trimble and was first deployed in 2012. It has delivered huge efficiencies and improvements in fleet reliability. Irish Rail has now retrofitted this same system on most fleets, and it is used for all aspects of fleet location, inspection, fault finding, maintenance planning, mileage and engine hour tracking. Access to these systems is also shared with key subcontractors such as the train manufacturers and engine maintenance suppliers, as this can really help support their contracts and performance. An improved system R3M is coming which looks at predictive diagnostics.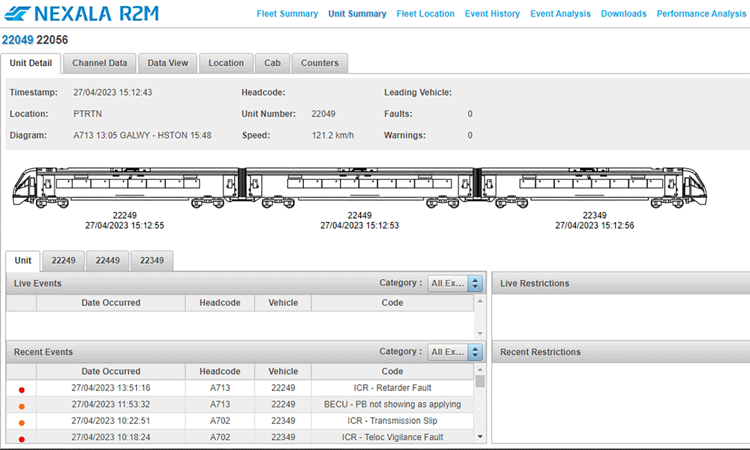 Separately, several automated inspection systems have been deployed since 2014 supplied by Wabtec Track IQ. Initially, three lineside network locations were implemented to provide axle bearing acoustic inspection and wheel condition detection and inspection. These systems have now been further upgraded to implement full wheel measurement and inspection. This means less downtime for manual inspection and measurement, and a more frequent and more accurate automatic inspection.
Service planning and operational delivery
In February 2020, Irish Rail changed train planning software to Hacon TPS, which was quite a substantial change in technology from the train planning software which had previously been in place since 2003. The previous train planning software was underpinned primarily by way of thousands of point-to-point train timings which had been compiled through a basic internal speed/distance computer programme and by physical train timing observations. This system, while capable of creating train graphs, had no correlation with the underlying track or signalling infrastructure and as such the system relied heavily on in-depth network knowledge of the train planner.
The new Hacon TPS train software system resulted in a step change in technology in relation to train planning. The implementation of the system commenced with the requirement to build an entire systemwide model of our rail network consisting of track, gradients, signal locations, signalling system rules and platform locations and lengths. The system also required the traction characteristics of all Irish Rail fleet types. In order to deliver the required system data, a project team was created with representatives of the Civil, Signalling & Mechanical Engineering functions to work with Hacon to design and build a systemwide model of our rail network and fleet characteristics.
Following the completion of the network build and the simulation of our timetable by utilising the fleet traction characteristics, the system produced a new set of train timings known as 'Technical Run Times (TRTs)'. These timings were to replace the long established 'Sectional Run Times (SRTs)' which were the basis of our existing timetable. This process highlighted many intermediate timing variations across all our routes, while not indicating a huge variance in end-to-end overall journey times, intermediate timing variances were quite substantial.
The benefits of the new system for planning were vast as the system utilised the modelled rail infrastructure as the basis for planning train movements. The system provides a three-screen aid to the train planner showing a detailed train path view, a train graph view and the infrastructure view. The system provides the train planner with a full view of the train plan and an indication of the train routing. A key benefit provided by way of having a model of the network and associated technical data is that train conflicts are indicated in real time.
The utilisation of a network model with in-built signalling rules provides a visual and technical aid to the train planner and removes the huge reliance of detailed system wide knowledge which was required with the previous train planning system. Hacon TPS also provides simulation capability whereby train plans for major timetable change, engineering work or short-term special event plans can be simulated in advance with the ability to apply perturbation to test timetable robustness.
Another key feature of the system is to enable scenario testing in terms of infrastructure enhancements and the ability to measure performance or service enhancement of such improvements. The base network model can be easily copied into a separate project and the infrastructure can be edited to reflect a future state enhancement or to demonstrate the service impact of a reduction in infrastructure, temporary speed restrictions etc. This function is particularly beneficial for business case justification in terms of new railway infrastructure projects or to highlight service impacts during infrastructure works.
The system will play a key role in the Implementation of a new Traffic Management System (TMS) as part of our new National Train Control Centre. The train plan data from the system will export directly to the new TMS, providing the base timetable and operational information to the system. This data will inform the TMS of train ID codes, train type, train Length, routing Information, train connections and line speed data for both permanent and temporary track speeds. The benefits provided by the new Hacon TPS system will prove invaluable in our ability to plan, test and implement the exciting new service plans for our future railway.
Customer experience
Aside from the enhancements to fleet and infrastructure, we must not forget the customer – our end-user. A major objective towards greatly improved customer service is seen as essential for the business. A new CX programme, which commenced in 2022, began the implementation of a wide range of service enhancements to improve the customer experience, which includes customer service officers being placed onboard intercity trains and customer service training for all members of staff. The operations side of the business has been completely restructured to allow greater focus on the customer experience and separate this from service delivery.
In summary, with this multi-faceted approach, Irish Rail will advance on many fronts over the next 10 years to deliver major service enhancements for passenger and freight operations in terms of quantity and quality. 

Billy Gilpin joined Iarnród Éireann – Irish Rail (Irish Rail) in March 2019 as Director, Railway Undertaking, and is responsible for the safe and punctual operation and maintenance of train services, as well as overseeing the development of Irish Rail operations in tandem with the delivery of the National Development Plan investment in fleet and infrastructure. Billy joined the company from Serco, one of the world's largest providers of public services to governments, where he was Country Manager for Serco Saudi Arabia, and Passenger Business Unit Director for Saudi Arabian Railways. Prior to joining Serco in 2017, Billy had over 37 years' experience with Translink in Northern Ireland, primarily in rail and bus operations, as well as employee relations, culminating in his appointment as Head of Rail Service Operations.