CORADIA LIREX for Stockholm
From the LIREX Experimental to the CORADIA LIREX for Stockholm – how a new generation test vehicle became a series train…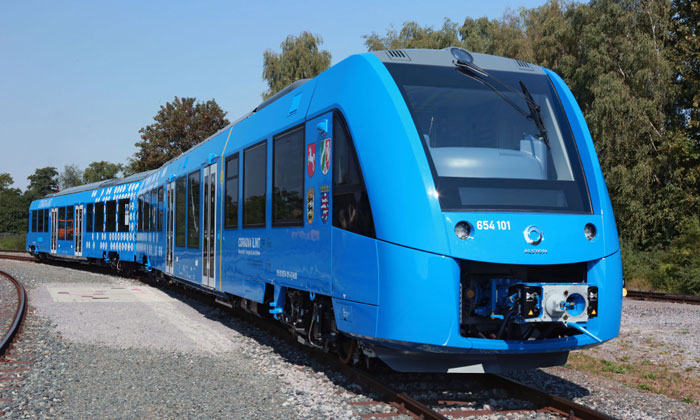 In April 2002, SL (Stockholm's Lokaltrafik), the authority for public transport in Stockholm, awarded ALSTOM a contract for 55 six-car CORADIA LIREX trains, with an option for 50 more. They will replace part of the Pendeltåg fleet operated by Citypendeln, which carries over 230,000 passengers daily. These trains have been developed from the LIREX Experimental train and adapted to fit the specific Swedish operating conditions.
LIREX Experimental – a new train generation
The LIREX (Light Innovative Regional Express) made its debut at InnoTrans 2000 in Berlin. It is a test vehicle for innovative concepts and components developed by ALSTOM in cooperation with Deutsche Bahn AG and promoted by the state of Saxony-Anhalt. One of the main innovations of this train is the roof-mounted equipment, enabling it to have a continuous low floor throughout. The train has been operating on the line from Magdeburg to Stendal since December 2002 and has clocked up 320,000 kilometres in commercial service.
CORADIA LIREX – obstacle-free travel
With a speed range between 160kph and 200kph, CORADIA is ALSTOM's family of regional trains. ALSTOM developed the LIREX as a flexible concept within this range in order to suit a variety of traffic systems: as a regional express or as a substitution for inter-regional trains, in agglomerations as a commuter train or for cross-border traffic. The main objectives for the development of the CORADIA LIREX included:
A 100% continuous low floor with a wide carbody (3042m)
An entrance height at platform level
A high level of passenger comfort
The integration of flexible and innovative propulsion concepts.
To achieve these objectives, the innovative roof technology of the LIREX Experimental was adopted, whereby all components are mounted on the roof so as to facilitate a consistent floor level along the length of the train. The carbody was lengthened and fitted with low-floor-type Jacob's bogies. Two-floor-heights are proposed with entrances at 760mm or 620mm. Doors up to 1,300mm wide are available to optimise passenger flow, even with luggage, wheelchairs and bicycles etc.
Another objective was to increase the passenger's feeling of security. The gangways between cars are wide, giving a clear view through the train and the detailed passenger information, video surveillance systems and emergency talk-back alarms contribute to enhancing security .
Most importantly in the development process, the principles of standardisation and modularity were applied. Many of the components and sub-assemblies of the vehicles are standard and already commercialised in other regional and commuter trains. The bogies, for example, are based on those used in the CORADIA MINUETTO trains for Trenitalia. The capacity, traction and interior fittings of the CORADIA LIREX can be designed variably and combined within the defined framework of the train to easily adapt the vehicles to different passenger profiles and operating conditions.
The CORADIA LIREX family thus includes three-six-car units, with capacities up to 322 seats, including two toilets. One or two doors per car side can be fitted. In terms of traction, three-phase technology is offered, with components on the roof. A variant with diesel traction (diesel-electric) is also available. Innovative propulsion systems will be considered.
Finally, the interior fittings can be organised to suit the need for individual seat arrangements, work zones, catering areas etc.
CORADIA LIREX for Stockholm
When SL chose CORADIA LIREX for its new commuter trains, it was looking for high capacity, performance and comfort, a contemporary lightweight construction to save energy, proven subsystems and cost-effectiveness.
Base requirements included rapid acceleration levels (as stations are close to one another), several wide doors (12 on each side, each measuring 1.30 meters) to ensure fast passenger flow, a low floor for increased accessibility and the ability to function safely and reliably in extremely variable weather conditions. Redundancy has been built-in where the timetable can be respected with 2/3 available traction.
The maximum speed is 160kph and the trains can accelerate from 0-80kph in approximately 20 seconds.
In all weather conditions
Due to the Scandinavian climate it was essential, right from the feasibility stage, to consider operating functions in terms of winter capability. For example, the door system and bogies required particular attention to function at temperatures as low as -35°C. For example, the complete door-drive, including the moveable step, was scrupulously tested under several conditions to guarantee operation at very low temperature. The tests were carried out separately both as a system type-test and on the train.
ALSTOM used a special material for the bogie frame; the frame and the complete piping and cabling layout is designed in such a way so as to avoid snow packing and damage caused by snow and ice. Apart from the winter tests in Sweden which are required for approval, and in addition to the normal climatic tests carried out, further winter tests were performed at the Vienna climatic wind tunnel, Österreichisches Forschungs-und Prüfzentrum Arsenal GmbH. The entire test programme was agreed both with SL and the Swedish railway approval authorities.
The roof arrangement of the components leads to a considerably higher protection of these aggregates and therefore allows a reliable operation even in extreme weather. Since the equipment is more accessible, maintenance can be performed quickly and efficiently.
Green engineering
The high environmental standards in Sweden led to ambitious targets, including a recycling rate of 95 per cent. Unlike existing quotas, the high recycling rate is not based on purely theoretical calculations but on a feasible disassembly concept. The environmental impact at the end of a life cycle will be as low as possible thanks to a state-of-the-art design. Materials such as isocyanates, freons, polycyclic aromatic hydrocarbons, arsenic and arsenic compounds are clearly forbidden and replaced by environmentally-friendly, recyclable materials, without increasing the overall weight.
ALSTOM is able to guarantee compliance with a recycling rate of up to 95 per cent, achievable using the application of design principles developed in previous projects. Environmental know-how can be applied to design problems at any time. External suppliers were involved in this process early on since compliance with all guidelines is only possible by circulating the required information among all parties involved in the production of the vehicles.
Another requirement is compliance with the observation list and the limitation list of the Swedish Environmental Protection Agency and the National Chemicals Inspectorate for chemical substances. The substances expressly forbidden in these lists require special attention in the feasibility stage and in the subsequent design and manufacturing process. The green engineering applied to the CORADIA LIREX for Stockholm will lead to ALSTOM producing, in due course, a product ecological declaration.
High performance and reliability
The six-car articulated electric multiple units can carry around 374 seated and 565 standing passengers. The maximum speed is 160kph (the current fleet's top speed is 140kph), and the trains can accelerate from 0-80kph in approximately 20 seconds. This performance is powered by ALSTOM's ONIX traction system. To guarantee high levels of reliability and availability, the propulsion system is divided into three independent branches to ensure performance in case of failure. A basic advantage of the train is the high reliability and availability achieved by using proven components as well as a high degree of redundancy in the essential systems as traction, auxiliaries, control and brakes.
Easy access and comfort for passengers
Among the benefits adopted for the principle of obstacle-free traveling for the CORADIA LIREX for Stockholm, the trains are designed to make more passenger space available in the cars and allow for a continuous low floor (790mm above top of rail throughout 92 per cent of the car) and enabling easy passenger flow It also makes space for roomy multipurpose areas for stowing baby carriages, bikes and luggage. The train is equipped with a HVAC unit for each car and an independent HVAC unit for the driver's cab.
On home ground
The first CORADIA LIREX was presented to SL in ALSTOM's Salzgitter site in May 2005 and is expected to start passenger service in August 2005. All 55 trains should be in regular service by February 2007.
Return on experience
The concept of the CORADIA LIREX and its application for SL set high standards for an attractive, passenger-friendly train with demanding requirements in terms of performance, capacity, low operating and life-cycle costs and environmental friendliness. During the development, design, manufacturing and testing of these trains, valuable experience was gained to integrate in future projects based on the CORADIA LIREX family.