Global Railway Review's round-up of InnoTrans 2018 news (June)
On 18 September 2018, the Messe Berlin will open its doors once again to host the world's largest rail-focused trade fair. With the event getting closer, Global Railway Review takes a look at some recent InnoTrans headlines to explore what visitors to the twelfth exhibition can expect to see.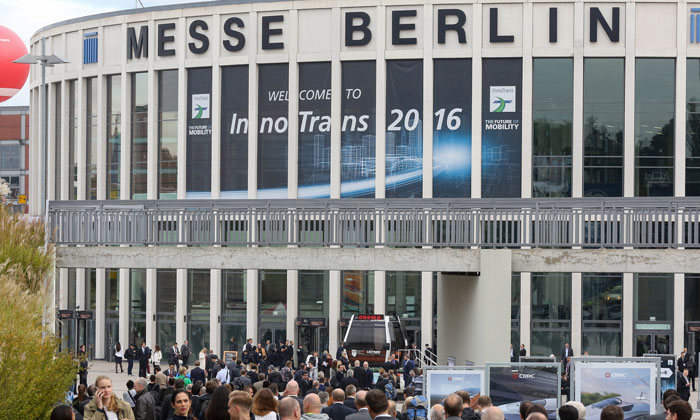 Credit: InnoTrans
InnoTrans is the leading international trade fair for rail technology, which takes place every two years in Berlin. Divided into the five exhibition segments Railway Technology, Railway Infrastructure, Public Transport, Interiors and Tunnel Construction, InnoTrans occupies all 41 halls of the Berlin Exhibition Center.
In 2018, 224 companies will be exhibiting for the first time. This high level of demand is proof that the world's leading transport trade fair offers exactly what the industry needs. More than 60 per cent of exhibitors will come from abroad, including New Zealand, which will be represented for the first time.
Big data and artificial intelligence is continuing to dominate the rail industry and more exhibitors are devoting their attention to areas where digitisation plays a major part in the sector, resulting in new inventions and ideas – many of which will be presented at InnoTrans 2018.
InnoTrans provides a perfect platform and opportunity for rail companies from around the world to present their products, services and future mobility solutions to a global audience of experts. 
The first-time presentation of the 'Ideenzug', an innovative train, will undoubtedly be a highlight. Professor Dr. Sabina Jeschke, Member of the DB Technology and Digitalisation Board, has said: "With our new innovative train and all-new vehicle compartment designs we aim to offer public transport customers an entirely new travel experience."
Under the motto "Shaping connected mobility", key industry player Siemens will present digital innovations and solutions that are expected to make rail transport even more efficient, safer and reliable. Siemens will also be presenting a new concept for high-speed trains at InnoTrans 2018: The Velaro Novo.
The year's InnoTrans will have a dedicated section within the Interiors segment to focus on travel catering and comfort services; illustrating how important these two aspects are for ensuring rail customer satisfaction.
Furthermore, Global Railway Review also recently interviewed David Tennent, Executive Director of the Railway Engineering Maintenance-Suppliers Association (REMSA) about their involvement and what he expects from this year's event.