Women Inspiring Rail: A Q&A with Jenny Gejke, Head of Digital Channel Development, SJ AB
For our next Women Inspiring Rail instalment, Jenny Gejke, Head of Digital Channel Development at SJ AB, discusses her work on digitalisation and how modernising the way rail companies approach customer experience will increase passenger numbers and satisfaction.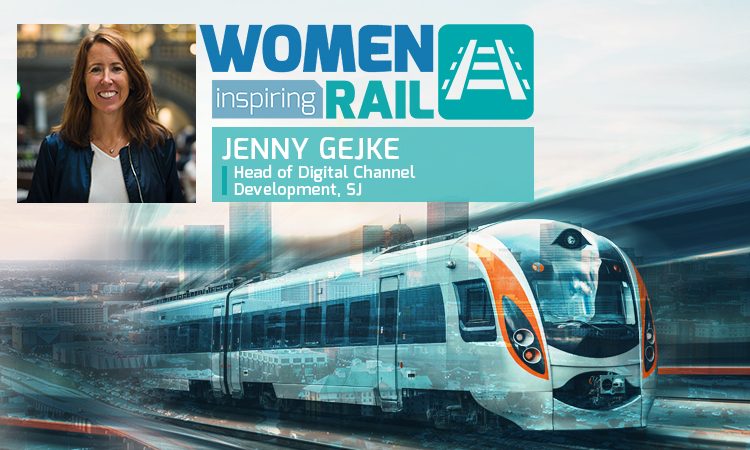 How did your career in rail begin and what does your current job involve?
I started working at SJ AB 10 years ago. I began as a consultant but, after a year working with strategy for the internal digital channels, I was offered a position heading up a new department within the Communications function. During my first years at SJ, I worked with the launch of SJ's presence in social media, such as Twitter and Facebook, as well as being involved in several strategic projects like choosing and implementing a new technical platform for our new website. For the past five years, I have been responsible for the development of SJ's digital sales and self-service channels; including our website, mobile apps and ticket vending machines. In my role, I work with the long-term strategic plan and lead a team that manages daily operations and am responsible for our booking and payment solutions from a business perspective. My role also includes working with my team and other departments within SJ on the digital customer experience throughout the whole customer journey. We focus not only on the purchasing of the tickets, but also on which kind of services the customer wants and needs before, during, and after their journeys.
What aspects of your job do you find the most challenging/rewarding, and why?
We have many examples where customer ideas have been developed for use on the app and/or the website.
We have over 140,000 travellers every day and more than 100,000 visitors in our digital channels, with many people relying on our digital services to be able to travel to and from work or when seeing friends and family. I really like that the work we do as a team on maintaining our channels and to keep developing new features has a real impact. It is also very rewarding to be out in the stations or on the trains meeting our customers, where I always get valuable feedback and a lot of new ideas for improvements or new features that we can work on – we have many examples where customer ideas have been developed for use on the app and/or the website.
One of the more challenging aspects of my work, however, is how to be able to continue to be relevant and attractive as competition increases online. We are a small organisation and we often need to work with limited means and face tough decisions regarding which kind of customer requirement is most important and if we can deliver the new features.  I also spend a lot of time working on improving our ways of working, which can be very challenging at times since it involves people and requires a lot of patience. Working with changing behaviours and mindsets, you need to have a long-term perspective – there are no quick fixes.
What is it about the rail industry that you are most passionate about?
We will always need to travel but, as we all know, we must do it in a sustainable and environment-friendly fashion.
I feel very strongly about our purpose at SJ, which is "We enable people to meet". We will always need to travel but, as we all know, we must do it in a sustainable and environment-friendly fashion. SJ's trains run on 100 per cent renewable energy. Working to get more people to choose train over car or plane travel is more than just a job, and it makes me feel like I am part of a great solution to a hazardous problem. So, I'm very proud to be working at a company that works to connect people, and whose services contribute to a more sustainable planet. There are certainly challenges in the rail industry connected to infrastructure issues, complex planning and production processes that we have. But, for me, there are few industries that have such a long history who also contribute to making our shared future better. Also, after over 10 years working in the rail industry, I am very impressed by all of the highly skilled colleagues I have at SJ, as well as the passion they bring to work every day.
What has been your biggest achievement/proudest moment so far in your rail career?
During my time at SJ, we've launched a brand new mobile-first website, which was awarded 'Best Website in Sweden 2018', a new mobile app, and new ticket vending machines in the stations. The app has won both gold and silver at the Swedish Design Awards in the digital device category and is now nominated once again. In 2018, SJ were named 'the most digitalised travel company' in Europe by consultancy firm, Bearing Point. We scored high in the judged categories of mobile, e-commerce, e-crm, digital product experience and social media presence. Our ranking is a result of many years of hard work and many people have contributed to this team effort. I'm extremely proud of this achievement. Our efforts succeeded, and today we have over 98 per cent digital sales, which has been a very important step to become more cost-effective and competitive. Moving forward, we are investing in what we believe is the future – an even more customer driven way of working, as well as a clear vision regarding how we are going to meet and exceed the demands and needs of our future customers.
How has the rail industry evolved since you joined? What have been the biggest changes?
We are talking more about our work as 'transporting people' rather than just 'driving trains', which is a big shift in mindset.
Since I started working at SJ over 10 years ago, a lot has changed. The whole industry has become more customer and traveller focused, which I think is great – and totally necessary. We are talking more about our work as 'transporting people' rather than just 'driving trains', which is a big shift in mindset. Also, during those 10 years, the deregulation of the Swedish market has been ongoing. It has brought on healthy competition, making us step up and improve our services and our way of working, becoming more customer oriented in all areas of the company. With new competitors we have seen a spike in market growth. Even though our market share might be smaller, our passenger numbers are breaking records every year. More and more people are discovering the benefits of traveling by train, and the competition has contributed to this development.
But, having said that, I would argue that digitalisation is by far the biggest change in the industry during my tenure so far. One good example is how we have digitalised sales. We migrated from our not so effective and rather expensive manual ticket vendors and invested in our online presence. Then continued with developing our digital customer experience, which has now put us in the driving seat of the industry. Another example is that we will have one of Europe's smartest train fleets within a couple of years. AI and RPA will help us to handle monitoring the trains, big data, and plan maintenance more cost efficiently with less interference in operations. When I started at SJ 10 years ago, I could never have imagined that we would 3D-print spare parts for the trains as we do today. The need for increased digitalisation of our services and internal processes is also something that right now is bringing about a need for change and development of new competencies.
Who within the rail community has been an inspiration to you, and why?
There are so many great people in this industry, so it's hard to pick just one – but I would like to mention my former boss at SJ, who always had the customer/traveller in focus and worked a lot with developing our culture, creating a safe space for everyone to be able to grow and make a difference for our customers. As a leader, he has been a great inspiration to me and I want to especially mention his way of putting people first in combination with a genuine interest in inclusion and equal worth – no matter who you are, your background, your sexuality, your physical limitations etc.
I also would like to take the chance to say that I am inspired by all of my fantastic colleagues throughout the whole organisation that work with great dedication every day to deliver a great experience to our customers. Many of my colleagues have been in the rail industry for more than a decade, and the expert knowledge they have about different aspects of our industry and our own company is truly admirable. At the same time, they also understand the need to change and take in new ways of working as well as the use of new technology.
What can be done to diversify the workforce in the rail sector? What advice would you give to those thinking about pursuing a career in rail?
We need to highlight how broad the rail sector is in terms of different job opportunities.
We can see heavy investments in the rail infrastructure in large parts of Europe and, at the same time, we also see a steady growing demand in both cargo capacity and passenger transportation. Given the important part that the energy-effective rail sector plays in the future of transportation, I'd say that the possibilities are almost endless. So, I would encourage anyone who is interested to work with new technology, products or services that really make a difference to consider a career in rail. Whether you are an engineer or more interested in business development, there are a lot of opportunities within the rail industry right now. Given the high demand for people in the whole of the rail sector, I would love to see investments in tailor-made educations and intern programmes which brings good prospects of diversifying the workforce if recruitment is performed wisely. There is also a great need for new types of competencies to bridge the gap into the future and this is of course a great opportunity for any company to diversify, both regarding gender balance as well as broadening the recruitment base. Communication is a key factor. We need to highlight how broad the rail sector is in terms of different job opportunities. My company is not only competing with other train operators for recruiting the right people, we are also competing with Volvo, Ericsson, Google and Spotify for employees.
If you would like to take part in the Women Inspiring Rail series, or would like to nominate a colleague to take part, please email: Leah Hockley, Junior Editor, Global Railway Review.