Siemens Mobility sells its 1,000th Vectron locomotive to DSB
The 1,000th Vectron locomotive manufactured by Siemens Mobility has been ordered by Danish State Railways (DSB).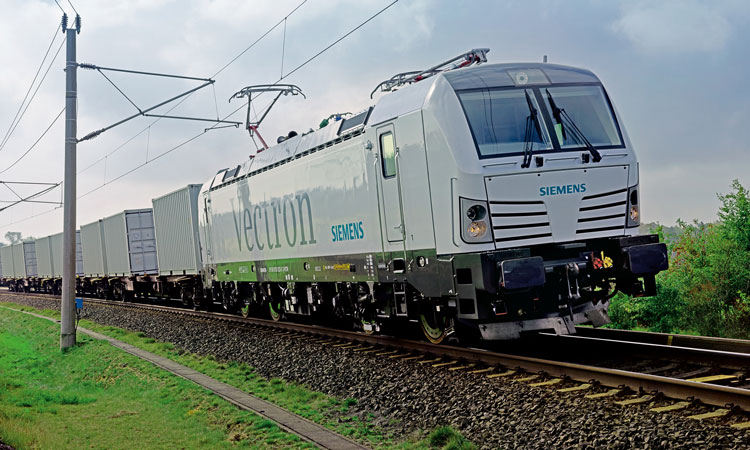 Credit: Siemens Mobility
The first Vectron was delivered in 2012, and all locomotives since have been built at the Siemens Mobility factory in Munich-Allach. This new order from DSB is for eight AC Vectrons, bringing a total of 1,003 Vectrons to have been sold to 49 customers in 16 countries.
Sabrina Soussan, CEO of Siemens Mobility, said: "The sale of the 1,000th Vectron is a success that underscores the long-standing trust and satisfaction of our customers. Designed for operating throughout Europe, the Vectron enables cross-border transport without changing locomotives. They create transport corridors across borders, ensuring efficient, eco-friendly and reliable European rail transport."
Jürgen Müller, DSB's Executive Vice President, Strategy and Rolling Stock, said: "We are strongly focused on our ability to ensure sustainable public transport with proven electric-based platforms in our modernisation of DSB's rolling stock fleet. We are, of course, looking forward to receiving all the Vectron locomotives we have ordered from Siemens Mobility, and the fact that we will receive locomotive number 1,000 shows that it is possible to establish standardised and off-the-shelf products in the railway industry."
Including this new order, the Vectron fleet operated by DSB has grown to 42 locomotives. The company ordered its first 34 AC Vectrons from Siemens Mobility in 2018 and 2019. The locomotives will be used for passenger service in Denmark. Deliveries will start at the end of 2020.
The Vectron is used for both freight and passenger service, and can be delivered as a purely electric version operating on either alternating current (AC) or direct current (DC), or as a multisystem (MS) variant. The Vectrons have a power output of 5.2 or 6.4 megawatts. For freight transport in selected countries, Siemens Mobility also has the standard Smartron locomotive as well as the Vectron Dual Mode, a combined diesel and electric locomotive, in its portfolio.
Vectron locomotives have already accumulated more than 300 million fleet kilometres of service and are certified for operating in Austria, Belgium, Bulgaria, Croatia, the Czech Republic, Finland, Germany, Hungary, Italy, the Netherlands, Norway, Poland, Romania, Serbia, Slovakia, Slovenia, Sweden, Switzerland and Turkey.