National Rail to notify passengers of busy trains and stations before beginning journey
The new system introduced by National Rail will help to enable social distancing and keep passengers safe while travelling.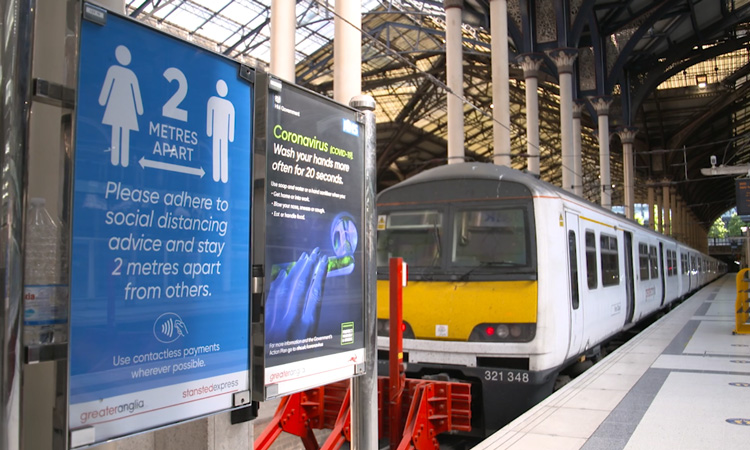 Credit: National Rail
From 5 June 2020, a new system from National Rail Enquiries (NRE) will be introduced to alert UK rail passengers of busy trains and stations before they leave home, helping them to stagger their journeys and keep safe when travelling.
The service will take operational messages about busy trains and stations that are sent by frontline rail staff to control rooms and, within five minutes, display these in passenger-friendly language on journey planning websites and apps.
Users will see a red or yellow warning triangle when they search their journey and, by clicking on it, will be able to find out more information and advice.
The UK Transport Secretary, Grant Shapps, said: "With capacity reduced to around one fifth of that previously seen on our railways, it is important that people work from home if they can, stagger their travel times to avoid crowds, and use other forms of transport wherever possible. But for those who need to use the train, it is fantastic to see innovative digital services rolled out to help keep them safe while on the move. Harnessing data and new technology will be crucial both to enable social distancing now and to modernise the network for the future."
Journey information will be complemented by a new information service that will update passengers on how disruption and overcrowding will affect their journey. This new technology will also provide alternative travel options, helping people to maintain social distancing as they continue to make essential journeys.  Passengers can sign up to alerts from National Rail Enquiries on 'Alert me by Messenger', with updates on WhatsApp and SMS being made available over the coming weeks.
The personalised information service – developed by tech start-up Zipabout – uses a range of anonymised data, including journey planning data, to predict how busy a train is likely to be by analysing recent information and comparing it with historic trends. This, in turn, allows National Rail Enquiries to not only warn passengers of busy services, allowing them to plan and stagger their journeys, but also to suggest quieter options or alternative routes they can take.
Train companies say that the new technology will play an important role in helping people to travel safely, with social distancing-measured space on trains to around 10 per cent of normal levels. The announcement comes as more people are expected to return to the rail network due to more businesses being set to reopen this during June 2020.
Rail companies, the UK government and technology companies are also working together to build on this new technology by looking at all other available data sources to ensure passenger information is as up to date as possible.
Robert Nisbet, Director of Nations and Regions at the Rail Delivery Group (RDG), said: "With social distancing meaning there is space for fewer people to travel by train, the rail industry will be using technology to help passengers stagger their journeys and stay safe while travelling. The eyes and ears of thousands of frontline staff will let us know if stations or trains are getting busy while cutting-edge data analysis will help us predict spikes in demand, giving passengers the advice they need in the palm of their hands."
He continued: "While people should only go by train if their journey is really necessary, those who do need to travel should sign up for alerts from National Rail and, before setting off, pop online to check the very latest information and avoid the busiest times. We also ask everyone travelling to wear a face covering to prevent the spread of the virus."