ÖBB begins testing of hydrogen train in passenger service
The hydrogen train will operate along two routes for a 10-week testing period to gain a range of experience with the alternative technology.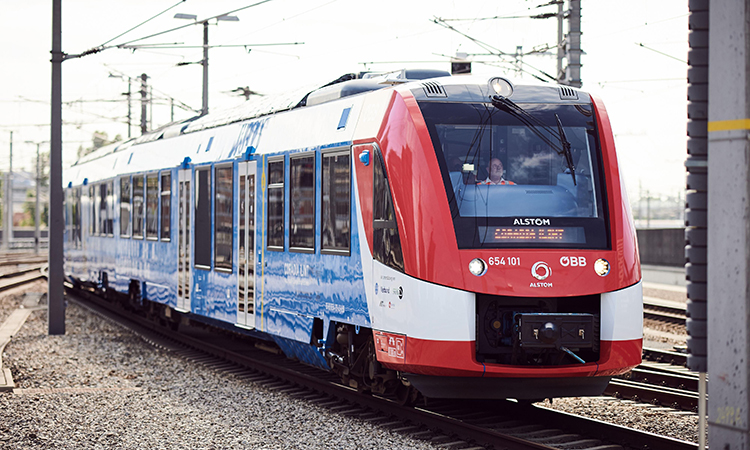 Credit: ÖBB/Knopp
For the first time in Austria, ÖBB has begun testing a hydrogen train instead of a diesel multiple unit in scheduled operation with passengers. As part of the approximately 10-week test phase, Alstom's Coradia iLint will be put through its paces by ÖBB.
The aim of the pilot programme is to gain experience from a technical, operational and economic point of view with the alternative drive technology. The hydrogen train will run on the Aspangbahn or Thermenbahn from Vienna via Wiener Neustadt to Fehring and on the route between Wiener Neustadt and Puchberg am Schneeberg and Gutenstein until 26 November 2020.
On the occasion of the premiere of the hydrogen train, CEO of ÖBB-Holding AG, Andreas Matthä, said: "We clearly see ourselves as pioneers in testing hydrogen technology on the rails. As Austria's largest climate protection company, we are actively helping to shape the mobility of the future with technological alternatives."
Dr. Jörg Nikutta, spokesman for the management of Alstom in Germany and Austria, said: "With ÖBB's use in regular passenger service of our innovative product, Coradia iLint, has reached the next milestone. The emission-free drive technology of the Coradia iLint offers a climate-friendly alternative to conventional diesel trains, especially on non-electrified routes. I am particularly pleased that ÖBB, a strong partner on the European mobility market, is convinced of our technology and its advantages."
By 2030, ÖBB want to be CO2-neutral in the mobility sector. In addition to the electrification of existing diesel lines, this is achieved on the railways through the use of rail vehicles with alternative drives.
In various practical projects, ÖBB is already addressing the question of which alternative drive technology will prove to be sustainable. From today's perspective, two technologies in particular come into question for a specific application in rail passenger transport: On the one hand, battery-powered trains, such as the 'Cityjet eco'; on the other hand, hydrogen trains, in which the energy comes from fuel cells.
The train has to prove itself, above all, on branch lines that are not intended for electrification. So far, hydrogen trains have mainly been in use in northern Germany and the Netherlands. With the test on geographically demanding routes in the south of Lower Austria, the hydrogen train is now being put through its paces for the first time in the country.