Alstom receives order from SNCF Voyageurs for first hydrogen trains in France
On behalf of four French Regions, SNCF Voyageurs has placed an order with Alstom for the delivery of the first hydrogen trains for France.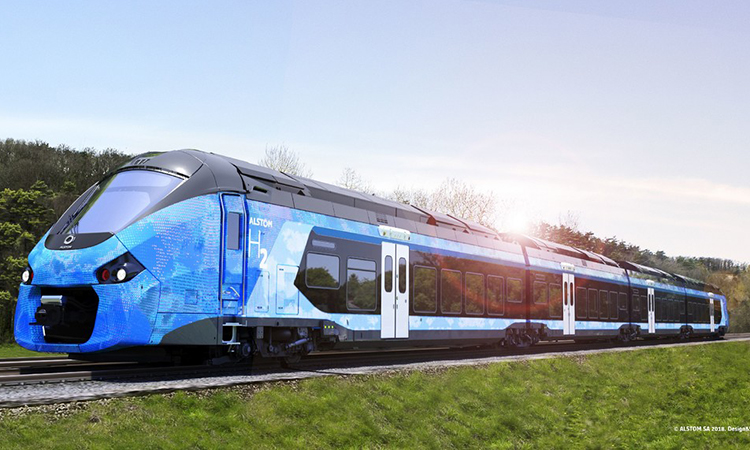 Credit: Alstom
The French regions of Auvergne-Rhône-Alpes, Bourgogne-Franche-Comté, Grand Est and Occitanie have signed the very first order of dual mode electric-hydrogen trains in France. This marks a historic step in rail transport's reduction in CO2 emissions for the benefit of passengers and regions and in the development of a hydrogen ecosystem, as well as a promising sector for the future.
Acting on behalf of the four regions, SNCF Voyageurs has placed an order with Alstom for the first 12 dual mode electric-hydrogen trains (plus two optional trainsets) in the Coradia Polyvalent range for Régiolis, developed by Alstom. The contract is worth a total of almost €190 million euros.
In the early days, trains were powered by steam and thermal, then electric energy followed. This innovation marks a genuine revolution in rail mobility. A first in France, it will work to support energy transition goals to cut greenhouse gas emissions and noise pollution, an ambition that is supported by the French government through its hydrogen plan, which was launched in June 2018.
It is also fully in line with the PLANETER programme to reduce the environmental impact of SNCF Voyageurs' regional mobility solutions, based on the conviction that introducing more TERs (regional express trains) can significantly reduce CO2 emissions. Other French regions have already expressed their interest in participating in a second phase of the project.
This official French order for hydrogen-powered trains is the result of two years of joint efforts by the project's various stakeholders. The dual mode electric-hydrogen Coradia Polyvalent train meets the requirements of France's diverse rail network and has an autonomy of up to 600km on sections of non-electrified railway. This four-car, 72m-long train has a total capacity of 218 seats and the same dynamic performance and level of comfort as the dual mode electric-diesel version.
"France has everything that it needs to become a hydrogen champion: the French government is fully committed to turning this ambition into reality. We will be covering €47 million of development costs for France's first regional hydrogen-powered train. I am delighted that this support has enabled the four partner regions to confirm their order for the first 14 trains," said Jean-Baptiste Djebbari, Minister Delegate for Transport at the French Ministry of the Ecological Transition.
"Alstom is particularly proud to be contributing – alongside SNCF Voyageurs and the Auvergne-Rhône-Alpes, Bourgogne-Franche-Comté, Grand Est and Occitanie regions – to a cleaner and more sustainable mobility solution. Alstom is the first rail company in the world to launch a hydrogen train onto the market and to master this technology through its iLint train, developed for the German market. This new order for the French market is fully in line with the Alstom Group's ambition to become number one in the green and smart mobility market and to help to roll out an efficient hydrogen ecosystem in our regions," said Jean-Baptiste Eyméoud, President of Alstom France.
"This order marks a historic and concrete step towards clean mobility by rolling out a new rail solution with zero direct emissions. Hydrogen has become a concrete solution to help regions to achieve their energy transition. We are proud of our commitment to this way forward and of the addition of this technology to the range of solutions developed for our regions through our PLANETER programme. This order is the result of several years of work alongside our organising authorities and the manufacturer, achieved through the commitment and expertise of our teams in the Rolling Stock and TER departments, to develop a hydrogen train to meet our regions' needs," said Christophe Fanichet, CEO of SNCF Voyageurs.