Network Rail to showcase hydrogen-powered HydroFLEX train at COP26
Working with Porterbrook, Network Rail has announced plans to showcase some of the best of British low-carbon train technology at the UN Climate Change Conference of the Parties (COP26) in Glasgow.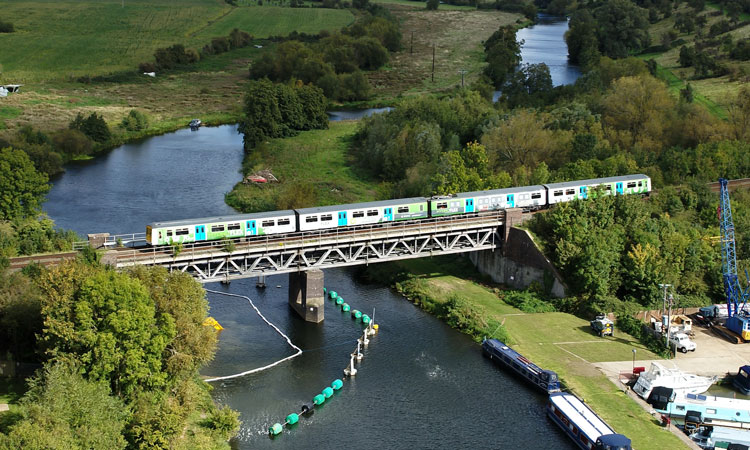 The collaboration will bring a ground-breaking hydrogen-powered HydroFLEX train that has been converted to include an 'on-board boardroom' to COP26, giving invited guests the chance to use the train to support the globally significant discussions that will take place. 
In 2020, Network Rail became the first railway company in the world to commit to the most stretching science-based targets for reducing carbon. A key part of the strategy for achieving those targets is decarbonising traction energy by powering trains with alternative fuels, notably further overhead line electrification and the introduction of hydrogen and battery trains.  
This unique fringe event will give guests, including leaders and climate experts, a first-hand experience of British technological innovation and expertise, and how alternative fuel trains of the future will play a vital part in building back better and greener from the pandemic.  
It is envisaged that the HydroFLEX may also be used to transport visitors to see the Zero Emission Train, Scotland's first hydrogen powered train.
Network Rail is also in the earlier stages of planning a similar event with Vivarail to bring an operational battery train to COP26. 
Rail Minister, Chris Heaton-Harris, said: "As a previous winner of DfT funding through our First of a Kind competition, it is amazing to see Porterbrook's HydroFLEX train showcased on an international stage. Ground-breaking green technology projects like HydroFLEX are central to our plan to decarbonise the rail network by 2050."
Network Rail's Group Safety and Engineering Director, Martin Frobisher OBE, said: "I'm delighted to announce we are hosting this exciting train at COP26. Rail is already the greenest form of public transport and we want to show our commitment to running an even cleaner, greener railway and playing a vital role in helping tackle climate change. To do this, we're working in partnership with Porterbrook, an innovative British company who have developed green technology with tremendous export potential."
Managing Director of Scotland's Railway, Alex Hynes, said: "We're working hard alongside governments to bring the benefits of electrification and decarbonisation to communities across Scotland. We have ambitious targets to decarbonise our network and developing new technologies like hydrogen and hybrid trains will be key to delivering on those commitments. During COP26 the world will be watching Glasgow, and this will be a tremendous opportunity to demonstrate how rail will play its part in making a greener future."
Mary Grant, CEO of Porterbrook, said: "We are delighted to work with Martin and the Network Rail team to bring our HydroFLEX to COP26 and showcase the best of British engineering to the world. Porterbrook has spent the last three years working on a range of engineering initiatives that will help both UK and Scottish governments meet their decarbonisation targets. We believe that our £7 million investment in HydroFLEX reflects a significant acceleration of the railway industry's journey towards Net Zero."
Experts at the University of Birmingham have welcomed the announcement. HydroFLEX was developed by the University's Birmingham Centre for Railway Research and Education (BCRRE) in partnership with Porterbrook.
Alex Burrows, Director of BCRRE, said: "The HydroFLEX project has been a fantastic example of collaboration between industry and academia to accelerate the development of this innovative technology from research to market introduction.  The use of green hydrogen as an energy source to replace diesel on the railway is a great opportunity to accelerate the decarbonisation of our transport networks."
Dr Stuart Hillmansen, Reader in Railway Traction Systems at the University of Birmingham, said: "The HydroFLEX project is based on ground-breaking research into hydrogen-powered trains at the University of Birmingham. Tested last year on the GB mainline, HydroFLEX is now accelerating towards an in-service train which could be deployed rapidly into passenger service. We envisage hydrogen becoming a vital fuel that will be used alongside ongoing efforts to electrify the railway system, provide autonomous traction in a decarbonised railway.
"We are excited that this fundamental research has been quickly taken up by Porterbrook and the fully functional first in class is now in the detailed delivery phase, ready to be demonstrated to the industry and world at COP26."