Alstom's Coradia iLint hydrogen train makes its Swedish debut
The first hydrogen-powered train in the world, Alstom's Coradia iLint passenger train is making its debut in Östersund, Sweden, with aims to reduce CO2 emissions and help decarbonise rail transport.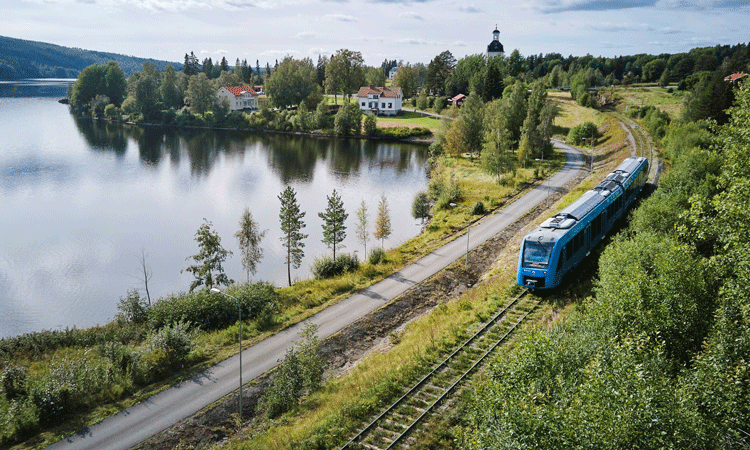 Credit: Alstom
The launch of the Coradia iLint has begun, with manufacturer Alstom presenting the train to a variety of local stakeholders including regional operators, transport authorities, government decision makers and the media, to highlight the potential of the Coradia iLint for sustainable transport in Sweden.
"The Coradia iLint trains represent a huge opportunity for Sweden to reduce CO2 emissions and even decarbonise rail transport. Thanks to hydrogen-powered public transport, regional operators can be beacons of modern mobility, as experienced recently in Germany, the Netherlands and Austria – that have tested and are implementing (or planning to implement) hydrogen trains," said Rob Whyte, CEO of Alstom Nordics. 
Determined sustainable mobility
The first two 100 per cent H2 iLint trains entered commercial service in Germany in 2018 and have already covered more than 100,000km. To date, 41 trainsets have been ordered in Germany, and successful trials have taken place in Austria and in the Netherlands. In Italy, the operator FNM confirmed an order for 14 100 per cent H2 trains at the end of 2020.
The zero-emissions train emits low levels of noise, with only steam and condensed water emitted from the exhaust. Alstom says its performance matches with regular regional trains with a maximum speed of 140km/h and comparable acceleration and braking performance. In addition, passenger capacity is up to 300 passengers and the train has a range of 1,000km.
Hydrogen trains for non-electrified routes
Designed specifically for use on non-electrified lines, Alstom says the Coradia iLint enables clean, sustainable train operations. This is of great importance for the environment, as Alstom claims replacing just one diesel regional train with one hydrogen train will reduce the yearly CO2 emission equivalent to 400 cars.
However, a significant proportion of the continent's rail networks will remain non-electrified for the foreseeable future, despite the many active electrification projects underway in several EU countries so far. Crucially, the Coradia iLint uses the existing infrastructure without the need to invest in electrification.