East Brandenburg rail network to receive 31 battery-electric trains
Niederbarnimer Eisenbahn (NEB) has ordered 31 two-car, battery-operated Mireo Plus B trains from Siemens Mobility for the Berlin-Brandenburg regional area.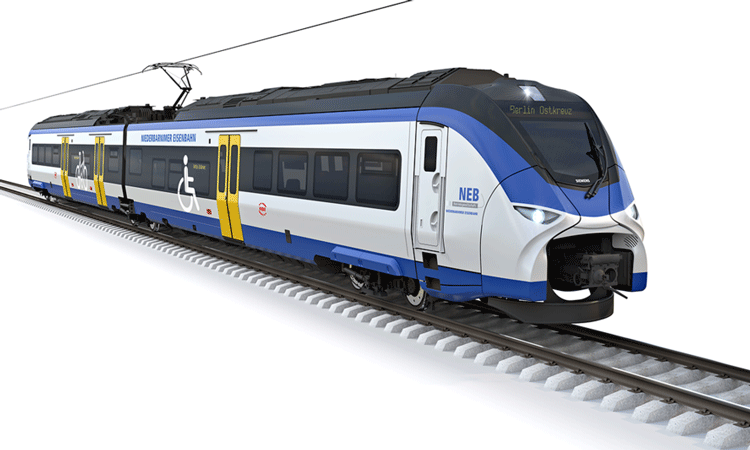 Siemens Mobility Mireo Plus B Netz Ostbrandenburg . Credit: Siemens Mobility
The Berlin-Brandenburg metropolitan area will receive the first battery-electric, emission-free regional trains in late-2024, along with an improved and expanded timetable. To provide this service, Niederbarnimer Eisenbahn (NEB), which again won the contract for the network early in June 2021, has ordered 31 two-car, battery-operated Mireo Plus B trains from Siemens Mobility. The federal states of Berlin and Brandenburg are responsible for planning and financing regional rail passenger service in the VBB region.
Guido Beermann, Minister for Transport for the State of Brandenburg, said: "The use of environmentally friendly propulsion systems in public transport marks a milestone in the technical transition taking place in the rail sector. As the first battery-electric, multiple-unit train in the Berlin-Brandenburg Public Transport Authority (VBB) network, the Mireo Plus B provides real added value in terms of climate compatibility and economy compared to the trains operating with combustion engines currently in use. This trend toward electric trains, together with an even more attractive service offering, will continue and give further impetus to the transport transition."
Regine Günther, Senator for the Environment, Transport and Climate Protection, the State of Berlin, commented: "The new trains ordered for regional service will make a double contribution to protecting the environment. There will be more train connections and at the same time fewer emissions. Providing more space, better equipment and features, and a higher service frequency, the regional trains will become more and more attractive for daily commuting and a real alternative to private cars."
"We have set new standards with the East Brandenburg network and its focus on alternative drives," added Susanne Henckel, Managing Director of the VBB. "The new trains along with the increased service frequency will significantly improve the offering for passengers. There is, in fact, no alternative: environmentally friendly rail must be further supported and expanded. What pleases me the most is that electric trains with battery storage systems will operate on many lines in the future. The transport transition and climate protection are in full harmony: It's a good day for public transport in Berlin and Brandenburg."
Detlef Bröcker, Managing Director of NEB, said: "With the Mireo Plus B from Siemens, we have a high-performance, highly efficient and innovative train in terms of performance, range and equipment, and one that's especially suitable for the partially electrified regional lines of the East Brandenburg network. With our push toward innovation and providing equipment that is geared to the needs of our passengers, we're strengthening climate-friendly regional rail transport and combining climate protection goals with the requirements of the transport transition."
"Sustainability is a very high priority for Siemens Mobility, which is why we are so pleased with the second order for our battery-powered Mireo Plus B," commented Dr. Elmar Zeiler, Head of Mass Transit and Regional Trains at Siemens Mobility. "Our Mireo is really poplar with customers, as well as passengers. We've already sold over 240 trains in this successful series. This state-of-the-art train delivers passenger comfort and convenience, reliability, and availability along with climate protection. By using batteries, the trains can operate on non-electrified railway lines, replacing diesel-powered trains and making a significant contribution to reducing CO2 emissions."
Emission-free, energy-efficient, and recyclable trains for East Brandenburg
In their Europe-wide tender for the East Brandenburg rail network, the states of Berlin and Brandenburg clearly focused on alternative drives and reducing environmental pollution. At present, diesel-powered trains operate on the network's routes. By switching to the Mireo Plus B battery-powered trains, annual consumption of diesel fuel will be reduced by around 4.4 million litres in the East Brandenburg network. The new trains will also completely eliminate local CO2 emissions and, depending on the electricity mix, also cut supra-regional emissions by roughly 11,500 tonnes per year. At the same time, they will significantly reduce fine dust emissions.
The battery-hybrid train draws its energy from the overhead contact line. On non-electrified sections of the network's routes, lithium-ion batteries – previously charged on the electrified sections – provide the train's power supply. Recovered braking energy is also used for powering the train. The two-car train has a battery-electric range of more than 90km.
More service and comfort for passengers
The East Brandenburg network also meets all the regional rail transport quality standards set by the states of Berlin and Brandenburg. The new trains will provide additional passenger-oriented services with regard to both equipment and service standards.
The new train cars are equipped with three doors on each side, enabling passengers in wheelchairs or with buggies to board and exit easier, even on lower platforms. Three doors on each car side, as well as new navigation system in the train ensure that passenger interchanges at stations are fast, uncomplicated and, above all, barrier-free.
With the new trains, passengers on the network's lines will have available at least 128 seats and 12 spaces for bicycles, wheelchairs, and buggies. Two or more trainsets can be coupled and operated as so-called double or multiple units to provide additional seating capacity.
With the creation of the new East Brandenburg network, the timetable offering will be increased on some lines, and the states have order more double trainsets than in the past to be operated on heavily used lines. The Mireo Plus B has more seats than required in the original tender.
In the future, passengers will also have free Wi-Fi access, a real-time passenger information system, and a specially designated family area. Around 60 electrical sockets are evenly distributed throughout the two cars, as well as USB charging ports and locations for inductive charging.
This order will also include a service and spare parts supply contract over 12 years until 2036. Siemens Mobility will ensure the availability of the trains over the entire term of the contract. Part of this service contract is not only to organise the performance of all necessary maintenance activities, but also continuously further develop maintenance activities, adopted to the customer-specific use of the vehicles.